Did you know that one of the most popular tools for finishing parts is the abrasive brush? The reason for this is not far-fetched. Brushing finish comes in several modified forms that suit the flexibilities of a wide range of applications. The abrasive tools used in brushing serves as perfect options to finish uneven surfaces. The result is a brushed metal finish with special grinding patterns.
What's even more exciting are the deburring, rounding, and polishing process that associated with brushing. Whenever precision machining of workpieces is combined with a brushing finish, you can be sure of well-defined product specifications. All of these combine to ensure overall product quality. This guide discusses brushing finish in detail, including the various applications and tips for improving brushing performance.
The Brushing Finish Process
Brushing surface finish involves using different brush types to improve the surface quality of products and get the desired appearance. Brushes used in this case are distinguishable from coated or bonded abrasive products. They are filamentary in nature. Thus, they ensure that there are no damages to the surface of the substrate.
The brushes employed for a brushed metal finish are less aggressive. They are also relevant for various applications, including deburring, cleaning, edging, roughing, etc. When a brushing tool contacts the surface of the material, it generates a low cutting pressure while moving away from the edge of the component towards a flatter surface.
If this occurs during deburring, the brushing tool generated high cutting forces because of the limited contact areas. Consequently, the force begins to diminish as the brush's filling actions completely remove the burr, thus, increasing the contact area. This action limits aggressive forces to the parts' edges. They also relieve stresses caused by other machining operations.
Therefore, the brushing tools perform their actions without changing the product's dimension. Furthermore, the brushes are efficient in creating precise radii. This is usually a requirement in some specific industries. An abrasive brush will produce a true radius while blending corners into the parts' sides.
Therefore, the effects will help refine the surface finish needed for parts with complex geometries.
Standard Brushes That Impact a Brushed Surface Finish
There are several types of brushes used to achieve a brushed metal finish. These tools are adequate in their respective way to achieve the desired surface finish. Two of the major brushes for brushed finish are:
Steel Wire Brushes
Steel wire brushes are standard tools to get a brushed finish for metal fabrication. These brushes are widely popular because they do not remove the base material or change the parts' dimensions.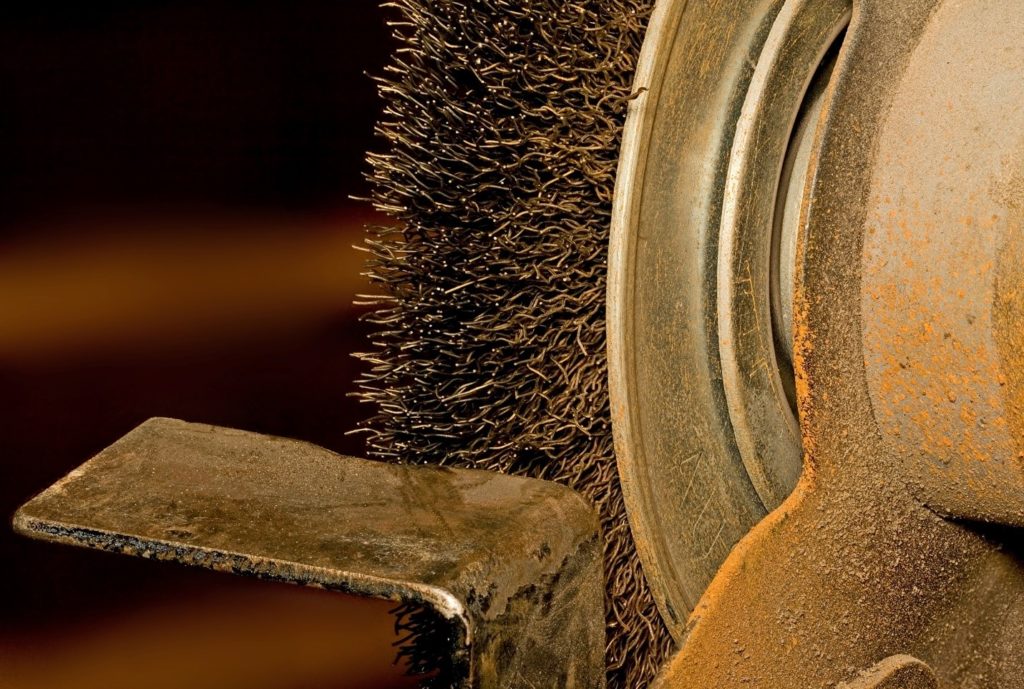 These brushes clean surfaces in a similar manner to sandblasting. However, no sand particles are colliding with the surface of the workpiece in this case. Instead, wire tips come in contact with the part to be polished. A perfect combination of hardened steel wire tips and high surface speeds energy ensures that brushes can separate surface contaminants from the substrate.
Moreover, steel wire brushes are very versatile. They come with several different configurations to help them meet the standard requirements of different kinds of applications. For instance, brushes that come with long filaments are conformable. This, they can easily follow contoured surfaces. On the other hand, short-trim steel brushes are fast-acting. These types of brushes are suitable for severe applications.
Another variable with steel wire brushes for brushing finish is the fill density. A high-density brush produces faster brushing actions, and they have longer brush lives. On the other hand, low-density brushes are more flexible for surface finishing works on irregular surfaces. Finally, you should also know that steel brushes are non-loading. That is, you won't find them clogging up with debris and particles whenever used on painted surfaces or other similar coatings.
Power Brushes
Typically, power brushes are made from carbon steel, ferrous and nonferrous wires, and natural and synthetic fibers. Brushing finish professionals have a wide range of uses for power brushes.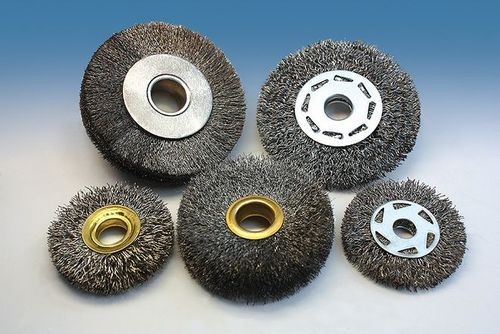 These include polishing, edge blending, and removal of contamination from substrates' surfaces. Power brushes operate using horsepower. That is, the level of brushed metal finish you get will depend on the amount of pressure put into the operation.
These brushes vary significantly in shape, size, and brush filament fabrications. Generally, longer filaments are used for moderate abrasive finishing on parts. On the other hand, shorter filaments suit intensive processing better. Also, brushes with the largest diameter sizes enabled by the power tool give the best and most effective results.
Power brushes aim at removing rusts and scales from the metal surfaces. It also moves molding defects and generally prevents oxidation. This metal surface finishing process improves the wear and corrosion resistance of components.
Typical Applications of Brushing Finish Techniques
As mentioned earlier, the brush for metal finishing offers several processing and manufacturing advantages. All of the processes aim to improve the surface and quality of the product.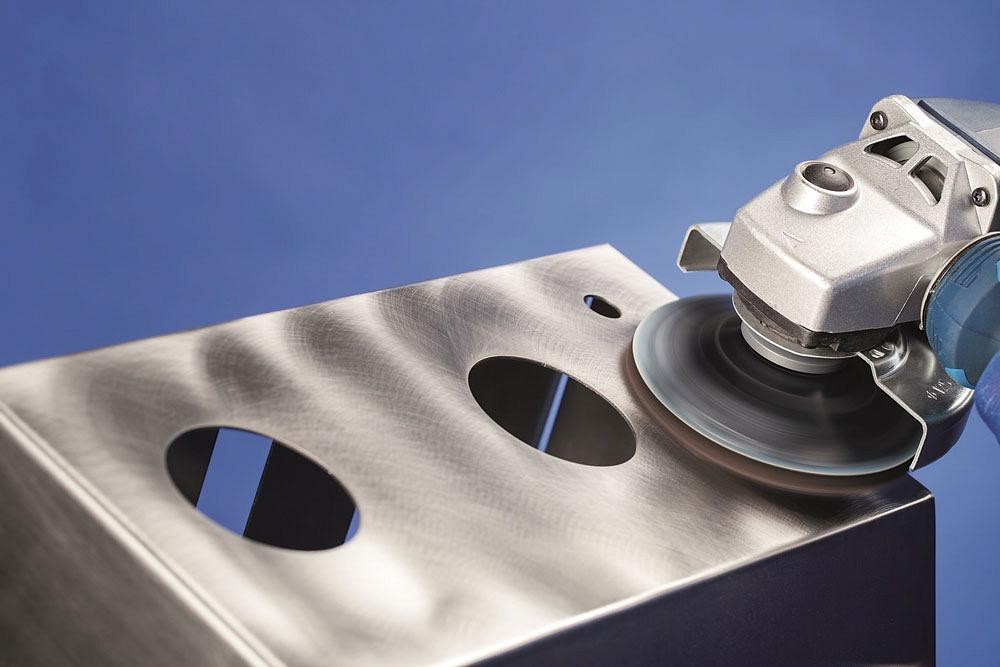 These applications of brushing finish in rapid prototyping and custom manufacturing include:
Deburring. Brushes used for metal finishing helps to remove burrs from other machining operations. They can carry this out effectively without causing any secondary defects or leaving other sharp edges. Unlike traditional grinding tools, brushing is more selective for one edge. Hence, they remove the burrs and spare the other parts of the base material.
Edge Blending. Power brushes are suitable for creating a rounded corner where two surfaces of a part meet. Just as for deburring, this operation does not affect any other material on the surface close to the edge. The part's tolerance also remains intact. Therefore, you have a part with reduced stress concentration and part fatigue. Furthermore, the part's life further improves.
Cleaning. Another critical application of brushing finish is removing dirt, film, rust, weld slag, pain, and heat treat scales. Stainless steel brushes are ideal for carrying out wet-cleaning operations.
Roughening. Brushing finishing also uniquely involves creating better intramolecular bonds on surfaces like nonferrous metals, rubber, and leather plastics. Surfaces roughed with power, or steel wire brushes helps to achieve better paint adhesion.
Pros and Cons of Brushing Finish
A brushed metal finish comes with several different advantages for a wide range of applications. However, it also comes with some downsides. Here, we take a look at the pros and cons of brushing as a finishing method.
Pros
Increases part durability
Improves physical and mechanical properties of parts
Enhances adhesion to paints
Increases corrosion resistance
Removes slags and other defects caused by welding and other operations
Maintains the tolerance and specifications of products
Enhances the aesthetic properties of products.
Cons
A brushed finish may be susceptible to damage
Brushed surfaces may be difficult to clean in some cases
The brushed texture may limit a fluid's ability to bead on a material's surface
Brush marks may occur if the finish is too viscous
RapidDirect Prototyping Services: Your Metal Finishing Expert
Creating a well-machined part can be quite a daunting task. However, knowing the right finish to go with it and how to apply it could even be more tasking. At RapidDirect, we can offer you solutions to both problems at an industry-leading price. Our machinists are well versed in applying different metal finishes ranging from electroplating to brushing finishes.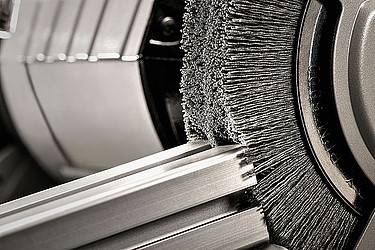 We do not just go ahead to pick any finish for your project. We carry you along every step of the way. We'll provide detailed information on the best finish to suit your machined part while also considering your budget alongside. You can also request a first article inspection on your components, provided your order exceeds 50 units or 5000 USD in the total price.
If you need an expert rapid prototyping service that can provide the best finishes for your Machined part, RapidDirect is the go-to company. Contact us today to know more about our services.
Try RapidDirect Now!
All information and uploads are secure and confidential.
Best Practices to Achieve a Brushed Finish for Custom Manufacturing Parts
You may be searching for the best tips on how to get a brushed metal look. Here are top recommendations and best practices from experts to help you achieve high-quality results from your brushing process.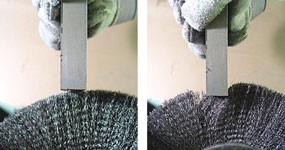 1. Use the Highest Possible Safe Speed
Power brushes are similar to cutting tools in some ways. For instance, these brushes operate most effectively whenever the pressure and operational speed properly match the application demands. It is best to use the highest speed possible to achieve the best results in most operations.
Using the lightest possible pressure along with that speed ensures the fastest and most effective brushing action. Moreover, it helps to have your brush lasting for a more extended period. Furthermore, increasing brushing speed to the highest safe on also increases the face stiffness. It will amaze you to know that a fine-wire brush with high rotational speed usually produces results equal to that of a coarse-wire brush with a slow rotational speed.
Therefore, the finest wire at the highest safe speed does the job for you while lowering production costs. Whenever brush speed is insufficient, operators tend to increase the pressure for the brushing process typically. However, you should note that excessive pressure leads to overbending of filaments and the buildup of heat. The result is usually rapid dulling of material, filament breakage, and reduced brush life.
Therefore, you should try to work with brushes that have more aggressive actions instead of using greater pressure. For example, a brush with a larger filament diameter and a shorter trim length will help you get top quality brushed sheet metal finish. A brush with knot type wire will also come in handy.
Note that you can't just increase the operating speed abruptly for any application. It would be best if you determined the right speed for each operation. Never exceed maximum safe free speed or recommended manufacturer's RPM rating to ensure the safety of the process.
2. Understand the Type of Brush to Use
There are some brushes suited for general applications, while others are suitable for specific purposes. For example, a crimped wire brush is helpful for a wide range of applications. They provide the required flexibility for light and medium brushing action. Also, they are suitable for parts that are liable to damages from impacts of knot brushes.
On the other hand, knot wire brushes are heat-treated filaments twisted into a single unit. They are less flexible and a little more aggressive in the brushing finish. These brushes are more suited to heavy-duty applications and working on parts requiting high-impact actions. For example, they help remove layers of rust. Pains, scale, oxides, and large burrs.
Thus, it is best to know the type of brush to know for metal parts for different applications. This will ensure that you do not employ the wrong tool in the wrong brushing process.
3. Do Not Brush Unidirectionally
It is always best to reverse the direction of the brushing finish process periodically. This will help to increase the performance of the brushes and give desired results. Regularly changing the rotational direction will help take advantage of the resulting self-sharpening action. Reversing the direction is pretty straightforward. All you need to do is remove the brush material from the spindle. Then, do a 180 degrees flip of the brush, and then securely remount the brush.
4. Heat-Treated, Oil-Tempered Wire Brushes Offers Top Results
Stainless steel brushes are advantageous in their ability to eliminate after-rust. However, carbon steel brushes have more critical attributes that make them superior. These attributes include fatigue resistance and cutting action. Therefore, when using carbon steel brushes to get brushed sheet metal finish for custom manufacturing applications, you should use those with high-quality filament materials.
High-tensile strength, heat-treated, the oil-tempered brush will offer excellent results. Those with wire diameters of 0.008 inches and higher are great options.
5. Always Keep Stainless Steel Brushes Clean
These brushes work great on stainless steel, aluminum, and other nonferrous metals. They eliminate the possibilities of "after-rust" on workpieces. You can maximize the use of the tools by keeping them clean at all times. After a brushing finish process, it is best to store these brushes away from workbenches to prevent contamination from carbon steel particles. Whenever you have any critical operations, it is important to degrease the stainless steel wire brush before starting the procedure.
Brushing Finish FAQs
What type of machining process is most suitable for a brushing finish?
Brushing is suitable for removing surface imperfections from parts made with different machining operations ranging from milling to cutting. However, brushing is not ideal for parts that require a high level of corrosion resistance.
What factors do I consider when selecting brushing equipment for my part?
Choosing the best brush for a metal finish would depend on the characteristics of the metal (stainless steel, aluminum, etc.) and the degree of finishing needed (coarse or fine).
Which type of brush is the best to use for finishing?
The best brush to use for a finishing job will depend on the area of application. For example, an even crimped brush is perfect for achieving fine finishes on uneven surfaces. On the other hand, twisted knot brushes are the best for removal applications.
Is the brushing finish better than the electroplating finish?
The best finish to choose will depend on the application of the component and the goal of the finish. For example, if your part requires a high level of corrosion resistance, an electroplating finish is the best.
Conclusion
Using the best finish for a machined part is just as crucial as getting the machining process right. Apart from the finish giving the part a great aesthetic look, it also improves its durability. Hence, choosing the best finish is a process that should be taken with utmost importance. To ensure that your part's finish is in the right hands, consult experts' opinions in the machining field. An expert company that can help with all your finishing needs is RapidDirect. Consult us today!