With the recent technological advancement, Computerized Numerical Control (CNC) has become the chief cornerstone of manufacturing. However, with its numerous benefits, this manufacturing process needs the best CNC software to function efficiently. So, what is the best CAD/CAM software for CNC?
There are many top-quality CAD-CAM applications for use in computerized numerical control. However, the best one for you would depend on other factors. These factors include cost, features, CNC technique support, and the ability to collaborate with other software.
Keep reading as we provide and highlight the top 8 best CAD/CAM software for CNC applications, their features, and factors to consider when choosing one software over another.
What Is CAD/CAM Software?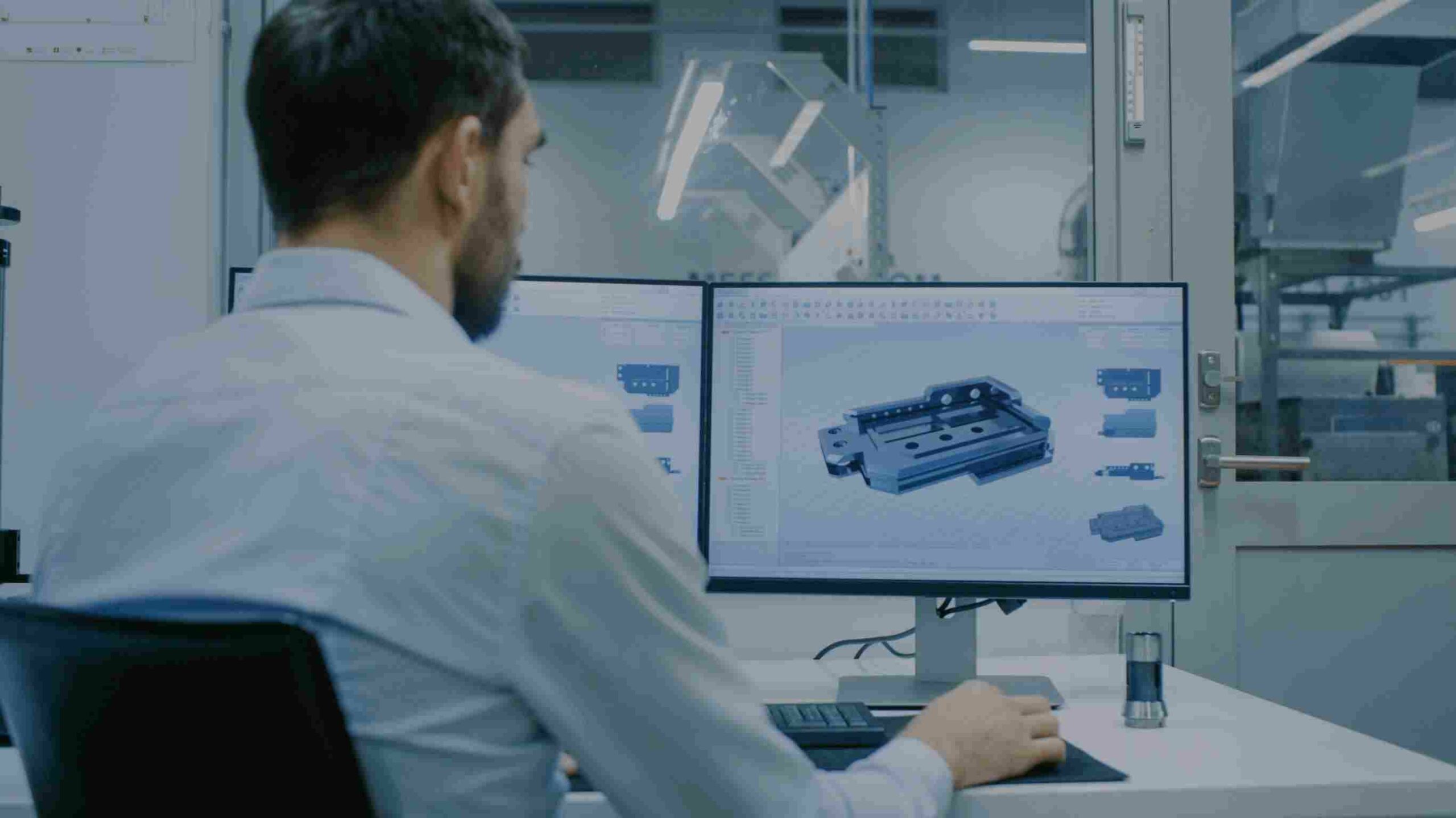 A computerized process helps create, modify and optimize a design. CAD, meaning computer-aided design, aid in a seamless design process. Most designers use this software to create both 2-dimensional and 3-dimensional designs because of its speed and accuracy. It simply replaces the manual drafting done by engineers making the process more automated.
CAM, meaning computer-aided manufacturing improves the precision of a manufacturing process. It involves the manufacturing of products or workpieces with the aid of a computer-controlled machine. Besides, CAM does this by converting design files into code. Furthermore, it communicates this code to a machine that performs manufacturing actions such as cutting, drilling, or milling using the instructions in the code.
A CAD/CAM software is a software package that offers the functionality of both CAD and CAM software. Consequently, rather than using two different software platforms to create and develop a design, an operator uses the same software. Below are processes automated by CAD-CAM software.
Turning: CNC turning is the removal of unwanted materials. In this process, the workpiece's rotation using gears and wheels removes excess material instead of a cutting tool.
Milling: CNC milling process also aids in the removal of excess material. However, unlike Turning, the cutting tool removes the excess material. The CAD/CAM software uses other automated processes to remove excess materials, including grinding, drilling, and routing.
3D Printing: This is another process this software automates, but unlike the previous processes, 3D printing technique is additive. It aids in the manufacturing of shapes by depositing materials in layers.
8 Best CAD/CAM Software for CNC Applications
Design processes for CAD and CAM are unique. Although they are part of the same manufacturing workflow, their process is quite different from each other. However, there is software capable of both undertaking CAD and CAM processes. Let us look at the best CAD/CAM software examples.
1. Fusion 360
Fusion 360  is one of the most popular free CNC software. It has both CAD and CAM functionalities, and its CAM settings are ideal for milling and laser techniques. Besides, this software supports many file types, including 3MF, DXF, and STL.
Fusion 360 can connect your design to several manufacturing techniques such as profiling, mill-turning, and turning. You could also perform 2.5-axis milling, 5-axis milling, probing, and 4-axis milling with this software.
More so, this software also aids you in decision-making, exhibiting a balance between performance and cost. Featuring a prediction component, this software helps predict the cost of manufacturing your design, with the production needs as its major parameter.
As one of the best free CNC software for beginners, Fusion 360 software has applications across various fields, from product designers and machinists to mechanical engineers. However, it works on only Windows and macOS operating systems.
2. Free CAD
Although FreeCAD is primarily CAD, it has efficient CAM capabilities. The CAD part of this software helps make both 2D and 3D designs. Unlike other CAD-CAM software, the 3D operations here include pockets and water lines.
The CAM part, on the other hand, features both mechanical and fluid simulations as well as a movement studio. You can access the CAM feature of Free CAD by selecting the Path Workbench.
Within the Workbench, you have the freedom to select a variety of work tools such as mills, laser cutters, and lathes. You also generate the G-code within the Workbench for transmission to the CNC machine.
Additionally, it is one of the best CAD software for beginners that can run on various operating systems, including Linus, Windows, and macOS. It also accepts different file types, including SVG, STEP, STL, DXF, and other CAD file types.
3. SOLIDWORKS
Made by Dassault Systems, SOLIDWORKS, primarily CAD, is still capable of CAM processes. However, the CAM functionalities featured in this software are limited. To get the full functionality, you must get an add-on that integrates design and manufacturing using a rule-based technology.
Besides, there are four versions of this CAM add-on available, all with different functionality, and your CAM needs to determine the ideal version for you. The four versions include; standard, professional, machinist professional, and machinist standard.
SOLIDWORKS software covers simulation, design, cost prediction, and manufacturability checks. It also performs other functions, such as data management, although it only works on Windows.
Additionally, this software stands out as it has a networking capability. With SOLIDWORKS, more than one person can work simultaneously on the design. Besides, changes made in one part of the design process reflect in other parts.
4. EnRoute
EnRoute developed by SAi has both CAD and CAM functionalities. It can provide 2D and 3D designs ideal for different machine types. Enroute is an easy-to-use software ideal for everyday cutting, creative designs, sign making, woodworking, metal machining, and other manufacturing processes.
Its designs are ideal for use on CNC router software, waterjets, plasmas, and lasers. Being user-friendly, Enroute comes with template textures that are ready to use. This software also features realistic simulations that aid in testing models, helping you spot errors that might hamper manufacturing.
Additionally, with this software, you can draw freehand using a mouse or stylus, banking on its precision editing tools to enhance your shapes. With an automated toolpath, Enroute also boasts one of the best CAM functionalities present in the software.
5. Carbide Create
With its CAD and CAM functionality, Carbide creates one of the best design and manufacturing software in the market. This software combines much functionality, including CAD, CAM, simulation, and G-code sender.
Besides, it is compatible with different file types, including DXF and STL. The beauty of this software is that you can also create a design directly using Carbide Create, convert the design to G-code, and transmit it directly to your CNC machine for production.
Additionally, Carbide Create software is versatile and compatible with macOS and Windows Operating systems. Users can do 2.5D machining with the free version of this CAD software—the 2.5D dimension between 2D and 3D. In 2.5D machining, you can only move two axes simultaneously.
6. Exocad
Exocad has applications in a wide range of industries, including dentistry. It has CAD and CAM functionalities and can process high volumes of data.
Exocad is user-friendly, allowing you to toggle between different modes, Wizard and Expert, depending on your level of expertise. As a dental CAD software, Exocad aids in the production of several dental products, including; crowns, bridges, inlays, removable veneers, and more.
Exocad's ability to improve efficiency makes it one of the most popular CAD-CAM software in the dental industry. Furthermore, it has applications in several dental fields, including design, orthodontics, implant planning, production, and scanning.
This software only works on Windows and accepts file types like .sdfa, .eoff, and .xyznb.
7. Estlcam
The Estlcam software is a CAM software that offers to mill exclusively. This software accepts a diverse range of file types, including; PLT, DXF, e25, PNG, GIF, and JPG.
One important feature Estlcam offers is that it gives you a choice between manual and automatic toolpath. The automatic toolpath feature helps the software ascertain the best cut path to follow based on the design drawing. On the other hand, with the manual toolpath feature, you choose the best path and cut the path yourself. It also boasts other settings like starting leveling, chamfering and regulating the depth of the toolpath.
With its user-friendly interface, this CAM-free software is quite easy to use. What's more, it runs only on Windows and its own. This means you cannot combine it with other software.
8. Inkscape
Inkscape is software majorly used for 2D vector drawings. However, creating a vector drawing using Inkscape differs from other software because you can manipulate the lines drawn here to create G-code. Also, this software can export DXF file format, which CAM software can use to generate a G-code. It supports other vector files like SVG, SVGZ, PDF, EPS, AI, CDR, and VSD.
Inkscape is versatile design software for Windows, Linus, and macOS operating systems. Moreover, even if you're new to it, you can easily learn to use the software with tutorial videos of the basics of the system.
Considerations When Choosing the CAD/CAM Software
Many CAD/CAM software is available online, making choosing the right one an uphill task. Having discussed the best software for your CAD and CAM needs, here are factors to consider when choosing one.
Cost
Cost is often the limiting factor when choosing CAD/CAM software. The reason is that most CAD packages are very expensive. However, before making a financial commitment to software, ensure you carry out proper research. The costly ones are not always the best, so ensure to look out for the features you need.
It is also important to note that most software comes in versions, and later versions always perform better than earlier ones. Keep this in mind when buying software at a lifetime cost or when making a subscription-based payment.
CNC Techniques Supported
Many CNC techniques are available (milling, laser, plasma, etc.). However, not all software supports them. Before choosing software, you should know the CNC techniques you need for manufacturing and only use software that supports them.
Rich Features
The number of features on software often determines the quality of work it would do. Always look out for software with rich functionality, as it considerably reduces the workload while improving the quality of work.
File Formats Supported
There are a lot of file types (STEP, STL, IGES, DXF, X3D, Parasolid, etc.) used for computerized numerical control processes. The file type usually depends on the software used in generating your CAD file. It might be problematic if your software does not accept a wide range of files, both importable and exportable.
Collaboration with Other Software
Another factor you should consider when choosing software is its ability to work with other software. This would help eliminate the time spent on preparing and moving files for manufacture between systems. Always go for software that works and collaborates seamlessly with others.
Get Custom Quality Prototype and Parts With RapidDirect
The result of CAD/CAM software and CNC machining is the development of a working prototype. If this is your aim, you need a reliable company like RapidDirect with years of experience developing prototypes.
We provide many services, including CNC machining and 3D printing. Our services aim to create custom parts to meet your production needs. We also know the value of time, so we ensure that we deliver promptly.
To enjoy the lightning-fast services of our service, all you need to do is upload your CAD file to our platform. You will get a quotation instantly, and we can start working on your project.