Injection molding plays a critical role in producing plastic parts and designs, and it is a fairly easy procedure. However, manufacturers tend to face some manufacturing difficulties when dealing with press-fit connections, especially without the aid of crush ribs.
These tiny structures ensure the smooth running of the production process. Also, they ensure that the different parts you are working on are firmly held together through the production process. This article will discuss what crush ribs are and their importance in molded parts.
What Are Injection Molding Crush Ribs?
Injection molding crush ribs are small, protruding features added to molding designs to support and improve the stability of press-fit connections. These structures are often small surfaces of about a tenth of an inch in diameter. They need the interference of about 0.01 inches between parts fitted together to work best. Crush ribs plastic design is frequently used in holes or other components that must be press-fit with another part.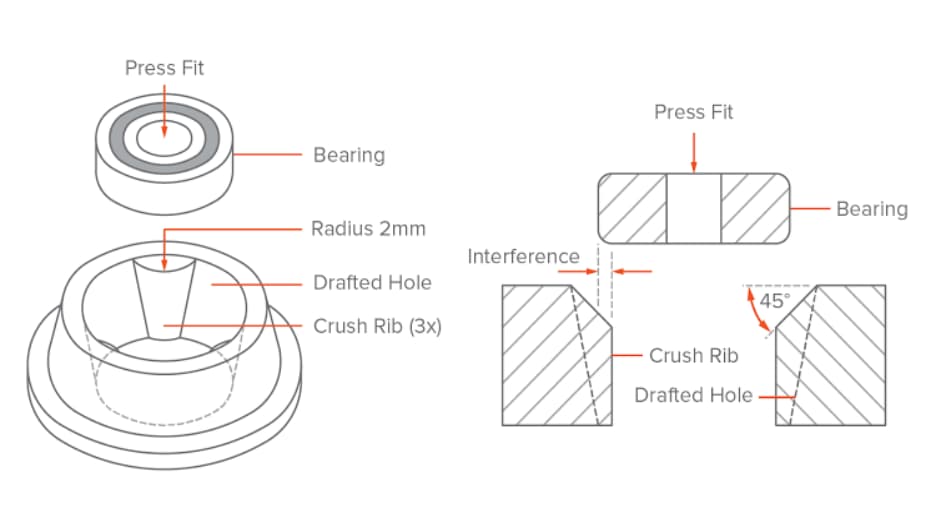 In producing crush ribs for plastic parts, manufacturers usually make them either pointed or rounded. During assembly, their tips deform, thereby creating a tight fit when in contact with other components. At least three crush ribs are necessary for individual fitting to fabricate plastic parts with solid support, firm fit, and good alignment. However, using more for additional and better support is also entertained.
Crush Ribs Designs: Traditional and Rounded Crush Ribs
As earlier mentioned, plastic ribs designs come in two formats: pointed ribs, which is the traditional design, and round ones. Either crush ribs design gets the job done, that is, to ensure a secure and firm connection. Both ribs' radius tips easily deform, creating a tight fit when in contact with other components during assembly.
However, what differentiates the two is the production cost. Where pointed ribs require cutting into molds with EDM – Electrical Discharge Machining, which accounts for an increase in the overall cost of fabricating them, on the other hand, rounded ribs can be easily milled directly into molds, just like the other components.
Are Crush Ribs Necessary for Molded Parts?
Yes! Crush ribs are essential features for support in plastic designs, especially in press fit connections.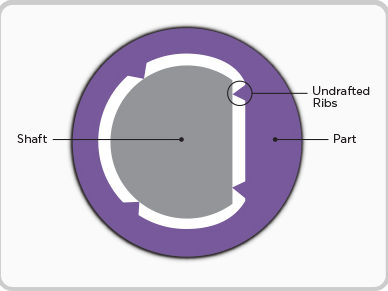 Some may deem crush ribs unnecessary since other manufacturing methods like 3D printing can easily manufacture press-fit components with little or no complications. However, this is not the case in injection molding, though you may think they are unimportant until you have a clear idea of what you are trying to design the molded parts.
Injection molding involves melting plastic components before remolding them into the desired shape. During the procedure, since the plastic pieces are already in liquid form, they tend to stick to the walls of the mold, and trying to remove these parts may damage it or even the mold.
Therefore, manufacturers often leave or draft holes in parts and components during injection molding to reduce friction and ease the removal of these components from the molds. However, these holes result in loose and weak press-fit holds. Here is where crush ribs designs prove to be necessary. Adding crush ribs to the inside of the hole ensures you have a stronghold without removing the draft hole.
These ribs have a minimal surface area with less resistance when the need to remove them arises after complete design fabrication. Therefore, manufacturers get to keep the draft in the hole with crush ribs yet produce a firm hold for the press fit parts. Ribs offer strength and stability to the walls of your mold yet maintain a reduced thickness. Should the need to increase wall thickness arise, the ribs help minimize possible complications.
Generally, increased thickness in plastic designs may result in sinking and warping, compromising the whole structure. In this case, using a rib is an effective means of bypassing such problems.
Guidelines for Injection Molding Crush Ribs
Ribs are more or less thin extensions, often at right angles from the wall or plane of the plastic parts. Below are some helpful crush rib guidelines:
Fabrication of ribs with minimal thickness is essential for preventing thick parts of the wall base.
To reduce sink marks, use ribs of about 60 percent of the joining wall thickness.
Use suitable draft angles.
For effective practices, increase spacing to about two times the wall thickness.  
When walking with glossy materials, use thinner ribs – about 40 percent wall thickness.
Options for Draft and Tight Fit Besides Adding Crush Ribs
Well-structured plastic injection molded parts and designs often have drafts, as they are necessary to quickly eject these parts from the mold. However, these drafts may account for weakening the press fit parts. Hence, the addition of ribs proves to be a better and more effective means of working with press fits components.
Should you choose not to use them in your design, below are other options that will provide a tight fit to your press fit connections.
Leave the hole as-is
This option may be risky, though it could be effective if correctly done. During molding, the molder needs to support the zero draft. The hole size mentioned is a factor as shallow holes pose fewer difficulties, but deeper holes require more stress to the mold's cores during cooling and ejecting.
Increasing the ejection force may lead to the breakage of the core or ejector pins. Consequently, the molder may need to tweak some of the process parameters to prevent mold damage. However, this risks complications like porosity and weak knit lines. This option is quite complicated and requires a high level of expertise. Hence, manufacturers may need to consider other options before proceeding with them.
Add draft to the hole
Adding a draft to the hole also ensures easy removal of the components from the mold since the shrinking part does not require much force. Therefore, when drafting the hole correctly, all needed is a slight bump to eject the part from the mold. The parts easily separate from the mold as the draft falls away from the part's wall. Hence, less stress on both the mold and the fabricated part.
Drafts permit the molder to be flexible with the production process. The molder can continue tweaking the design until he gets the best geometry for the custom design. The addition of drafts indeed reduces the risks of production difficulties. However, the molder needs to ensure that the process is best optimized to ensure that it doesn't negatively affect the function of the assembly.
RapidDirect – Injection Molding Services
Crush ribs are unique features that provide structural stability and support to press fit connections. They are essential components, especially when manufacturing plastic components with plastic injection molding. They are usually in two formats, the traditional ribs – pointed; and the rounded ribs. There are other options for maintaining firm fit plastic designs, like adding a draft to the hole, but using crush ribs is superior.
In need of top-notch injection molding services? RapidDirect is a reputable company and the leading provider of injection molding services. We offer top-notch molding operations to our highly esteemed customers. We boast of knowledgeable and highly skilled technicians who understand everything about injection molding and other technologies, such as CNC machining, Sheet metal fabrication, and 3D printing, delivering quality plastic products with the right fit that best suits customers' requests at all times.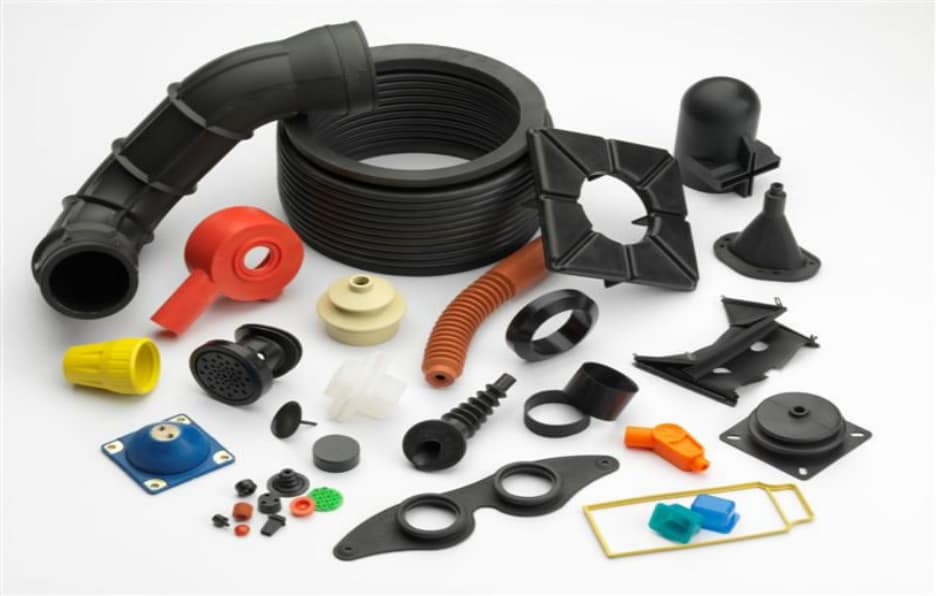 Also, we offer several options for surface finishes to help improve the part's features. What's more, we have an expert team well-versed in how to go about the individual production process in designing a piece. We also offer expert advice and suggestions to customers on how best to carry out their requests.
Have injection molding needs? We have an online manufacturing platform where you upload your CAD files and then set up your order details. You get a quotation with free DfM analysis within 12 hours.