Undercut injection molding deals with complex shapes and design that prevents removing the part from the mold without any damage. Undercut features in injection molding generally increase the overall complexity and associated costs of any design. For these reasons, it is better to avoid them whenever possible.
In this article, we will explore in detail what undercuts are in injection molding, and various methods used to create undercuts.
Undercuts in Injection Molding: A Brief Overview
Undercut molding is an essential process for creating hooks, grooves, and other elements that have a direct effect on the functionality of your part. Resultingly, it becomes absolutely necessary to include undercuts when your injection molding design has these features.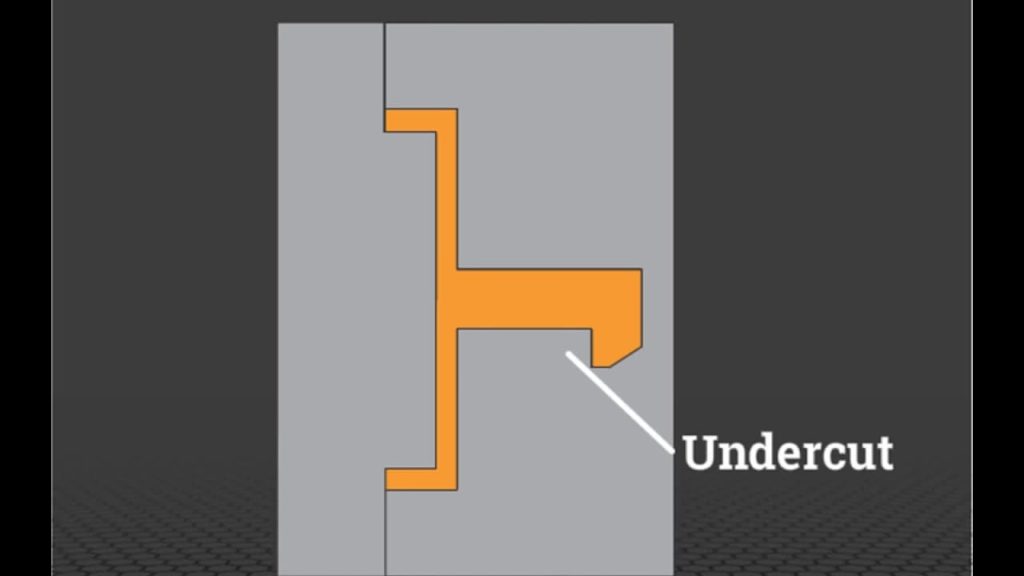 So, what makes undercuts so important that you can't avoid them in some designs? Here are the 5 most common scenarios where undercut injection molding becomes necessary.
Interlocking features: Snap or latch features, or anything similar that allows easier assembly and function.
Side holes: This is more common in consumer electronics but not exclusive to that domain. Side holes allow you to add buttons, ports, or other access points in the housing unit.
Barb fittings: Barb connectors are among the most common components that control airflow. In medical applications, plastic bar fittings play a crucial role in many devices.
Vertical threads: Multiple connectors, hoses, and other components require vertical threads for a secure connection that can bear light stresses and loads.
Custom inserts: Any custom feature that requires special design elements and may not be parallel to the molding draw.
Fortunately, there are some ways that allow experts to avoid the complexities associated with the undercut plastic injection molding process. Most require you to incorporate some design changes and refinements to ensure that the undercut doesn't hinder the regular ejection process. Therefore, you maintain the same level of functionality while avoiding the overall complexities of the process and avoiding the additional costs.
5 Ways to Create Successful Undercuts in Molded Parts
Dealing with undercuts is complex and requires deep technical knowledge. However, there are ways to deal with them successfully by improving your design and optimizing your operations. Here are 5 ways that can help you effectively deal with undercut molding designs.
1. Position Parting Lines
The parting line is the intersection plane between both molds. By positioning the parting line right on the protruding feature, you can avoid the undercutting problem. The reason is that when the feature is divided into two halves by the parting line, the part can be ejected from the mold without including an undercut. Refer to the figure below to see how it works.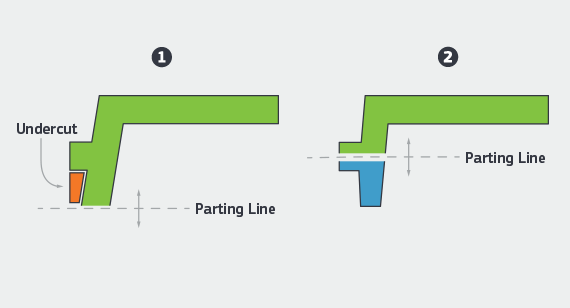 However, the technique comes with some limitations as well. The placement of your parting line depends on a plethora of factors starting from geometry, material properties, flow properties, and other features of the part.
2. Utilize Side-Actions Feature
In a situation where the undercut is absolutely necessary, a side-action feature can help you maintain the functionality of your part. In the simplest terms, a side-action core is an insert that slides out of the part during ejection.
When the material is ejected in, it is not able to fill up the volume taken up by this insert. When the molding process is complete, the insert slides out, leaving an undercut behind.
There are, however, many limitations in this design as well. The side action core needs to be perpendicular for effective action. To ensure this perpendicular motion, you have to design the mechanism accordingly, which adds complexity to the mold design.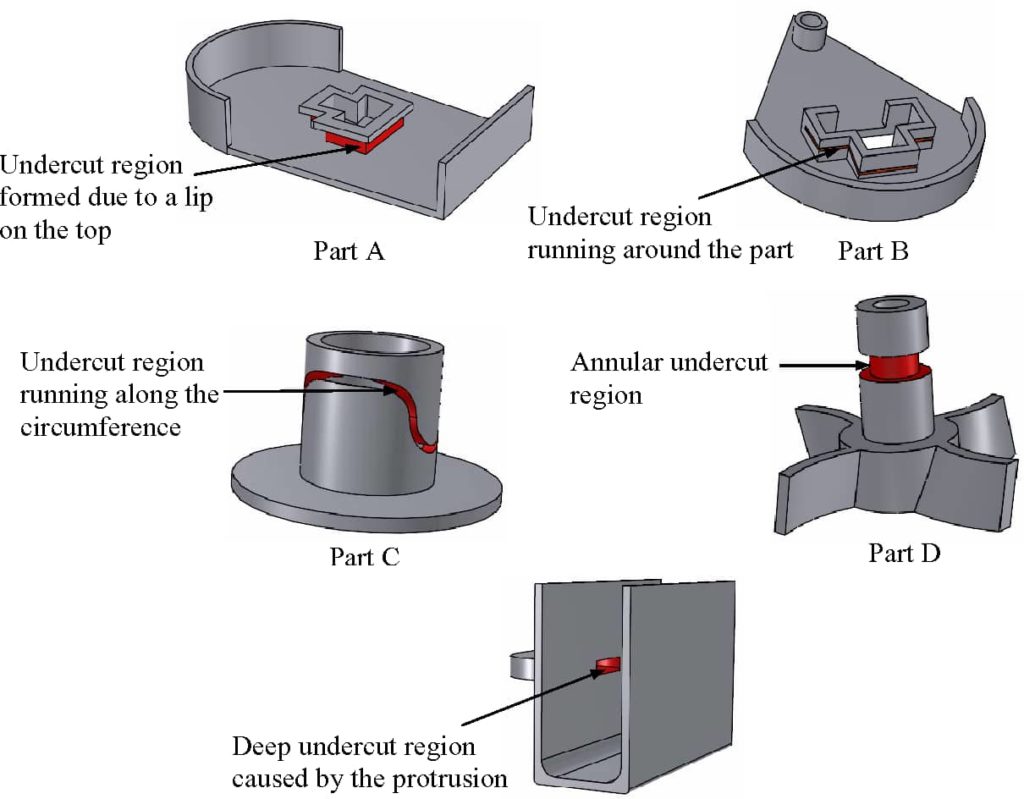 Another important limitation of side-action cores is related to the material. They work best with rigid materials that don't stick to the mold easily. Materials like nylon. Acetal and PC are the best choices. For flexible and easily deformable materials, bump-off seems like the better option.
3. Use Bump Offs
Bump offs are an excellent choice if you are dealing with flexible and elastic materials. The process works exactly like a normal injection molding job, with the addition of a single insert. When the process is complete, this insert is removed first. The space it leaves behind creates some 'wiggle room' for the part.
After the first insert is removed, the part is ejected normally. Due to the hollow space inside the mold, the part can deform slightly, allowing it to be ejected while having an undercut.
But there is an additional insert to accommodate the change in design. During ejection, the part slightly deforms, which releases it from the mold easily.
While bump-offs may seem quite simple from the outlook. Using them requires careful consideration of several factors. Here are some of the main restrictions when using bump off for undercut injection molding.
The part must be flexible enough to deform without damage.
The under feature must be away from stiffening features like corners and ribs.
The lead angle must be between 300 to 450.
4. Choose Hand-Loaded Inserts
The concept behind hand-loaded inserts is very similar to the side action cores. However, as the name suggests, this is a manual technique performed by technicians. They are not automatic and generally deal with internal undercut injection molding jobs or designs where no other method works.
Hand-loaded inserts are different metal pieces that the operator manually places in the mold to prevent any plastic from flowing in. This facilitates the ejection process as the operator is free to remove the piece once the cycle is over and reuse it for the next batch.
The main limitation of using hand-loaded inserts for undercut injection molding is related to the lead times. This is a manual process, which means that it'd naturally take more time to complete. Furthermore, the high temperatures involved create a safety concern as well. Workers use safety gloves and goggles but there is always a chance of burning yourself.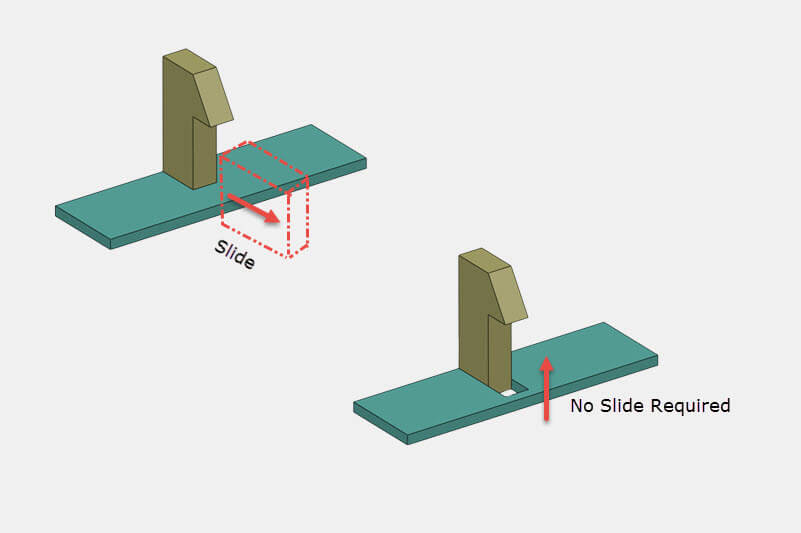 5. Incorporate Shutoffs
Shutoffs are temporary obstructions that use hooks, clips, or other similar components to snap-fit and prevent the flow in particular regions of the design. In most cases, shutoffs can eliminate the need for any side action cores or hand inserts that either increase the cost or slow down production. However, you'll need to modify the design to use this technique effectively.
For the best results, make sure that your design has enough draft angles to facilitate the ejection process without any issues. Additionally, the top side or vertical must have a difference of 3 degrees minimum. It ensures the safety of your undercut plastic injection molding design and prevents any rubbing, flash, or damage to the tool.
Part Design and Secondary Operations
Apart from the aforementioned options, changing the design and avoiding the undercut in the first place is still your best bet.
A good designer makes sure that his design is practical on top of being effective. Design for Manufacturability (DFM) requires careful consideration of a variety of factors that help you maintain the perfect balance between manufacturing ease and overall costs. And that too without compromising on the performance and functionality of the component.
Take a closer look at the application and your design. If there is a way to simplify things and avoid areas with the undercut, then the best route is to go for it. In most cases, doing this would probably be more economical than creating a mold that gives you the exact design you need.
Common Applications of Undercut Injection Molding Process
Undercut injection molding is prevalent across many industries owing to its suitability for manufacturing products requiring undercut features. A few such industries are handpicked and discussed below.
1. Medical Devices
Undercut plastic injection molding is extremely common in medical plastic parts because most of the designs in that sector fulfill some kind of complex job.
Life-saving devices, oxygen delivery units, and various other critical healthcare components have complicated designs because of what's at stake. In such applications, different undercut molding techniques can help designers ensure the best performance without compromising on the overall manufacturability of your specific part.
2. Consumer Electronics
Most consumer electronics rely on plastic housing because they are durable, long-lasting, insulated, and most importantly economical. However, the plastic housing needs to have numerous undercuts to allow access to the internal housing or to add buttons, switches, and various other elements for the users.
In many cases, you can't even opt for secondary operations because of the associated problems with the aesthetics. For instance, a cell phone designer has to ensure the design is both functional and eye-catching.
3. Design Requirements
Designers have to make sure that they adhere to certain conventions while designing undercuts. First and foremost, the feature should be placed such that there is enough space to remove it.
The side actions, for example, must not be too tightly placed that there is a risk of them getting stuck. If there is a hand-pinched element, it must be accessible to the operator.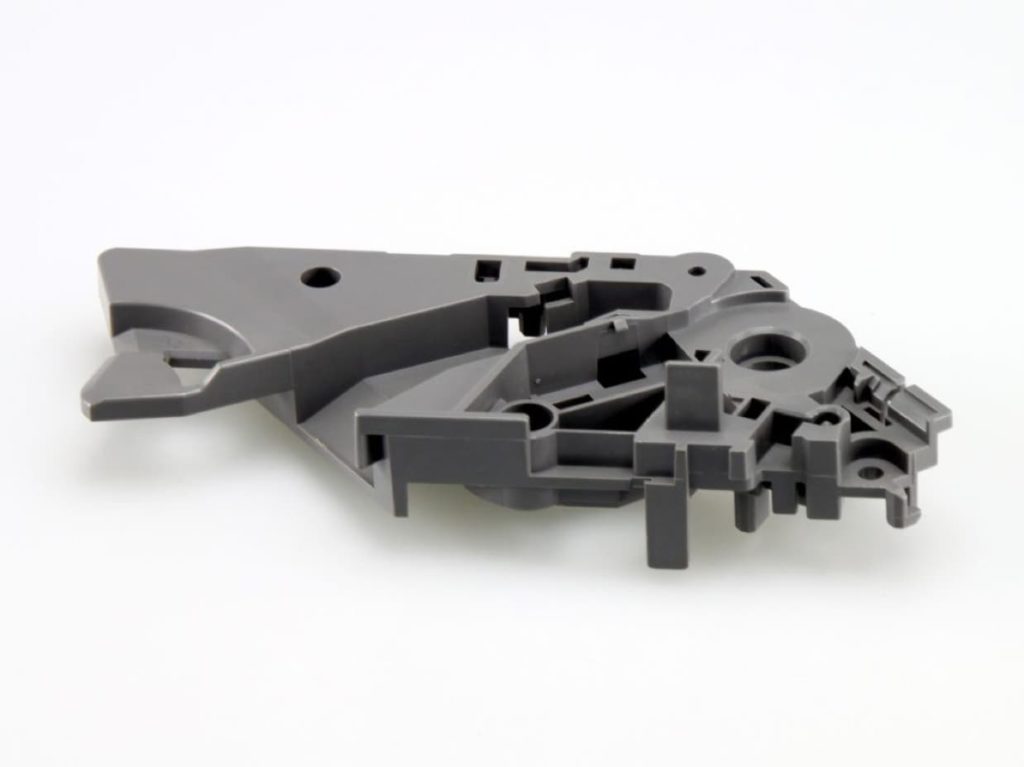 The Main Challenges of Undercuts Injection Molding
The design, material, and project requirements are important challenges in undercut plastic injection molding.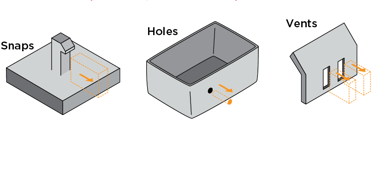 When it comes to the design, the more intricate the setup is, the more complications you'll see. It all starts from there. Draft angles, the cavities, and any other intricate angles need to be kept in check for the best performance. Additionally, the coating on the hand load must also have the right material to minimize the chances of any complications in the ejection process.
The second challenge might come from the material you are dealing with. The general rule of thumb states that the more rigid the material is, the more issues you'll face in the extraction process. Moreover, the overall flexibility and elasticity of the material you choose also determine the type of solution you can use to optimize your undercut molding.
Finally, another important challenge can come from the aesthetic requirements of the project. If you are dealing with a part where you don't want a visible parting line on injection molded parts or any other aesthetic issue, the design solution you'll be able to use will have some limitations. As a result, you'll have to deal with more complications.
Achieve Undercuts Success with the Help of RapidDirect
The undercut plastic injection molding process comes with a series of complications and intricate requirements that only the right manufacturing partner can help you navigate. RapidDirect possesses state-of-the-art equipment and has the most experienced team to deal with all your requirements and successfully deliver you the results with utmost consistency and at the best price.
RapidDirect doesn't limit itself to simply providing you injection molding services as well. We can provide a detailed DFM analysis that can help you optimize your part design to minimize any complexities and help you recognize the overall best course of action for fast results.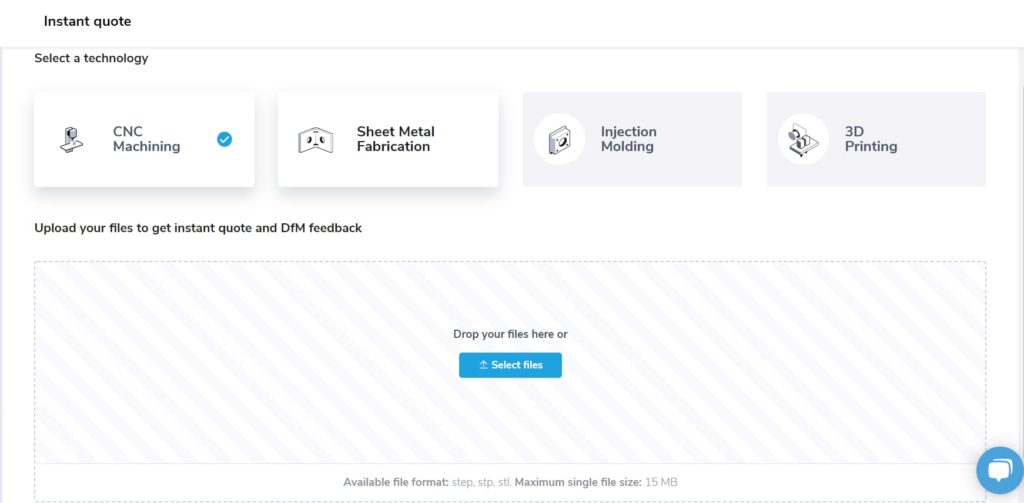 So get started with RapidDirect now! Simply upload your design files, and then configure material requirements and project details.
Try RapidDirect Now!
All information and uploads are secure and confidential.
FAQs
How to Avoid Undercut in Injection Molding?
Most of the time, it simply boils down to your design approach. An engineer may be able to omit an undercut while still maintaining functionality through a targeted design approach. Other times, you are not so lucky and the undercut is an absolute necessity. In that case, you may use the numerous techniques we highlighted in this article to facilitate undercut injection molding.
Should I break my part into multiple components in a case where the design is complex with a number of undercuts?
This is a decision you have to finalize after considering all the factors. Understandably, some parts do get so complex that there is no option left but to break them up into several, manageable parts. However, this comes at the expense of added labor costs and time. Plus there is always a chance that you could have manufactured a single, more precise part in a properly undercut injection mold. So, make sure that you have exhausted all your options before considering a multi-component approach.