RapidDirect offers a frictionless user experience, simplifying the process of finding a reliable manufacturing partner. This is what it's like to work with us.
What is RapidDirect?
RapidDirect is a specialist in rapid prototyping and low-volume manufacturing, providing CNC machining, injection molding, sheet metal fabrication, and 3D printing services. We help companies realize their manufacturing needs, working with a reliable supply chain and top-tier manufacturing partners to get customers the best possible deal.
But we're not just a bunch of engineers in a factory.
When we started our business, we saw that the rapid prototyping marketplace suffered from an accessibility problem: customers had to shop around for the best deal, and most prototyping companies were unable to provide a smooth and simple customer experience.
RapidDirect makes things simple.
From our instant quoting engine to our commitment to customer satisfaction, we make prototyping and low-volume manufacturing as easy as can be.
We use our wide manufacturing network to find the best manufacturer for our customers, we make sure the manufacturer does a great job, and we offer real-time order tracking when the project gets going.
That's why RapidDirect is the prototyping service of choice for customers in automotive, aerospace, medicine, consumer goods, robotics, and many other industries. For projects big or small, whatever the industry, we can do it.
Step 1: Everything starts online
Rapid prototyping is a cutting-edge industry that relies on software innovation and high-tech machinery. But you'd be surprised how many prototyping companies are stuck in surprisingly old-fashioned habits.
When working with some companies, the process of placing an order can be incredibly time-consuming. You exchange documents via email, you have one phone call after another, and by the time the project gets going, you're already behind schedule.
For a prototype that's supposed to be "rapid," that's hardly ideal.
RapidDirect has made things fast and easy with its intuitive online platform. Customers simply upload their designs, select from a few parameters, and RapidDirect's AI engine generates an accurate quotation for the project — delivered within 24 hours.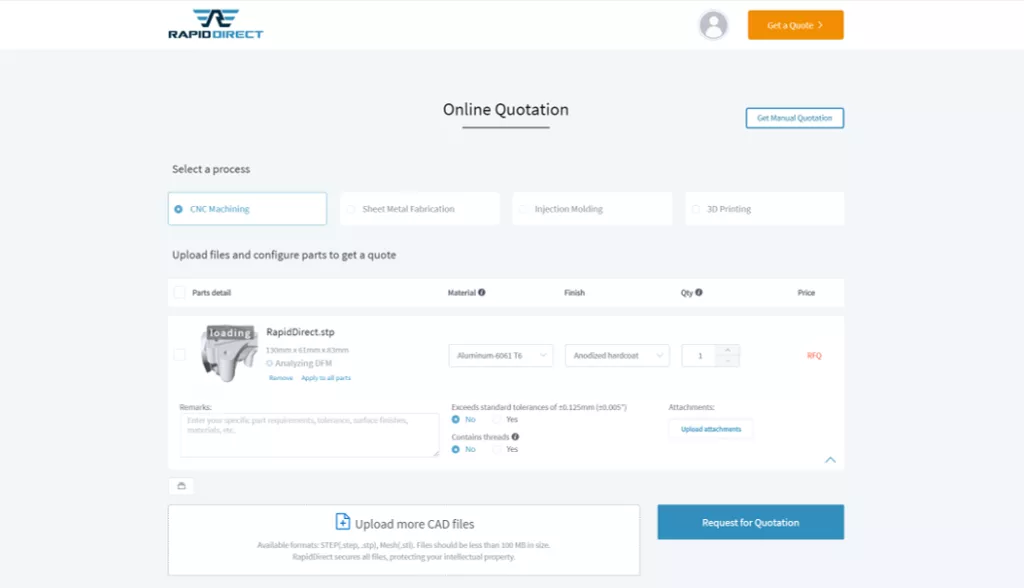 Within the same online platform, customers can evaluate their quotation, receive automated DfM feedback and choose whether to confirm the order. No back-and-forth. No nonsense. No opaque fees or mysterious problems.
We're not robots though! If the customer has a question about their order, or if they need detailed advice on materials, processes or finishing options, our team of 150 technicians will help them make the right decision.
Step 2: RapidDirect gets the ball rolling
Once an order has been placed, the customer can put their feet up. Or they can follow the progress of their project step by step. It's up to them. We don't mind.
Behind the scenes, however, things are about to get busy.
As soon as RapidDirect gets confirmation of the order, we get to work finding the best possible partner for the project.
That means forwarding an outline of the brief — nothing confidential, of course — to the most suitable candidates from our network of more than 100 reliable manufacturing partners, each of which has earned our trust through rigorous assessment and previous projects. (We also operate our own factories with high-quality equipment and experienced staff.)
From the optimized shortlist of manufacturing candidates, we assess the proposed prices, timeframe and overall suitability, before making an informed decision that will benefit the customer.
We are closely acquainted with all of our manufacturing partners, but for total reliability, we can also ask for a material certification upon the customer's request — ensuring that the parts are exactly as specified.
When we've made our decision, the chosen manufacturer gets the go-ahead, bringing the project one step closer to completion.
Step 3: Manufacturing begins
As all this is happening, the customer is never left in the dark. We'll notify them as soon as production begins, so they know their project is moving along.
Better still, they can get detailed updates on their parts by checking the project's Production Records on the RapidDirect platform. There's no obligation, of course, but we understand the importance of transparency — especially to businesses that need to outsource production.
Whether the customer has ordered a large batch of CNC machined parts, a single 3D printed prototype or something else entirely, they can rest assured that the manufacturing partner is doing a great job.
The customer also has a guarantee of confidentiality. Neither RapidDirect nor the manufacturing partner will disclose the design to any further party, in accordance with the terms of our binding Non-Disclosure Agreement.
They're the customer's parts, and they'll stay that way.
Step 4: The parts are on the way
When the manufacturer has finished fabricating the parts, it's our turn to make sure everything is of the required standard.
That means visually checking the parts and carrying out a full dimensional inspection report. We'll only send the customer their parts when we've confirmed that they match the original specifications.
Once quality control is complete, we carefully package the parts — with customized packaging, if the customer wants — so the parts are ready to ship. And the customer will know as soon as the parts leave our facility, as they receive another notification that the parts are on their way. (The speed of delivery depends on the chosen shipment method.)
Importantly, the customer never loses sight of their package. By checking the order's Logistics Records through the RapidDirect online platform, the customer can see a timestamp every time the package changes location. This gives a good idea about when the package will arrive.
Step 5: The parts arrive
When the high-quality parts arrive at the customer's doorstep, they'll quickly see how RapidDirect has built its reputation as a dependable prototyping and manufacturing service.
But that's not the end of the story.
Unlike some companies, RapidDirect doesn't abandon its customers as soon as money has changed hands. We want to know exactly what the customer thinks of their finished parts, and we welcome all forms of feedback.
Most all, we want to continue working with our customers, to make sure they come back time and time again for their prototypes and low-volume manufacturing orders.
We also understand the need for accountability. So if the customer isn't fully satisfied with their parts, we offer them a five-day refund period.
Overall, RapidDirect offers a simple, frictionless customer experience that accommodates every need. Customers who want their parts as soon as possible can complete an order in just a few clicks — without having to worry about a thing. On the other hand, those who want to work more collaboratively can receive assistance with their designs and tailored advice on materials and processes.
To experience RapidDirect for yourself, request a free quote today.