When it comes to the cost of CNC machining, there are a number of factors that every designer needs to take into consideration. There are discussions over ways to minimize CNC machining cost. One of those ways is the choice of CNC machining metals. All company targets cost minimization along with the movement of parts from production to market in the shorted possible period.
Metals suitable for CNC machining are each distinguished by different mechanical properties. These properties include strength, flexibility, corrosion resistance, and others. These properties result in a range of machinability factors. That is, some materials (with good machinability) are easier to mill and machine than others.
Generally, the easier it is to machine the material, the cheaper it is to work with. This is because you can process highly machinable CNC metals more quickly. Consequently, such an act drives down CNC costs. However, you must also put the cost of raw materials into account, as it can affect the overall cost of machining.
In this article, we'll look at how material choice, and specifically metals, can have an impact on the price of machining.
Different CNC Machining Metals Used Manufacturing
Below, we'll take a look at the most cost-effective metals for the CNC machine.
1. Aluminum
Available in a range of different alloys, Aluminum is one of the most cost-effective metals for CNC machining. It has a high machinability factor which varies slightly depending on the alloy. Furthermore, there is a low raw material cost associated with this metal. There is no wonder why Aluminum is one of the most popular CNC machining metals.
Aluminum has a high strength-to-weight ratio and good corrosion and temperature resistance. Thus, many industries find a use for this incredible metal for machining. The industries include aerospace, automotive, healthcare, consumer goods, and more. At RapidDirect, we offer a range of Aluminum alloys for CNC machining. They include the popular Aluminum 6061-T6, as well as Aluminum 7075-T6 and Aluminum 6082.
2. Stainless Steel
Stainless steel—also available in a range of alloys—is a popular and versatile material for CNC machining applications. Though not as machinable as Aluminum, stainless steel does maintain good machinability to low raw material cost ratio. CNC steel boasts several properties. These properties include high strength, chemical resistance, and hardness.
Considering these properties, you can be sure that it is ideal for your applications. It is perfect for use in the automotive, aerospace, food, marine, and healthcare industries, to name a few. RapidDirect offers the best machining stainless steel alloys for CNC Machining. For example, there is the 303 Stainless Steel, which has good machinability and is ideal for producing fittings and fasteners.
304 Stainless Steel is another milling stainless steel for cookware and chemical-processing equipment. Another one of the most common steel for machining is the 316 Stainless Steel. It is suitable for more extreme applications such as those in the marine or chemical industries. Out of the three, 303 Stainless Steel is the most cost-effective option because of the presence of sulfur and phosphorus.
3. Brass
Next on the list of cost-effective CNC machining metals is brass. Brass is a metal alloy made of a combination of copper and zinc. It has a high machinability factor (better than Stainless Steel), though its raw material cost is slightly higher. However, brass has a high scrap return, which can reduce the cost of raw material.
RapidDirect offers two Brass alloys: Brass C360 and Brass C260. Both of these alloys come with the higher zinc content. Brass C360 is the most cost-effective metal for machining because of its soft, easily machinable nature and the low impact it has on machining tools. In general, brass is known for its medium hardness and high tensile strength. This makes it suitable for applications in the electrical goods, consumer goods, architecture, automotive, and healthcare sectors.
4. Copper
Similar to brass, copper has a very high machinability rate. As an implication, it is one of the most cost-effective CNC machining metals. What drives the cost of copper up, however, is the price of raw material. Nonetheless, copper is popular for applications that require good electrical and thermal conductivity. Industries such as automotive, consumer electronics, and healthcare sectors find this CNC metal very useful. Other properties include good corrosion resistance.
RapidDirect offers two Copper alloys for CNC machining.
110 Copper has excellent electrical conductivity and formability.
101 Copper has the highest copper content of all the Cu alloys and therefore has the best conductivity.
5. Titanium
On the higher cost end of CNC machining metals is Titanium. Titanium is challenging to machine due to its low thermal conductivity and high strength. Moreover, the raw material has a relatively high price, which leads to high material and machining costs. Still, Titanium has several unique properties. These properties include an excellent strength-to-weight ratio. Consequently, it is a popular CNC metal for specialized industries such as aerospace and medical.
Titanium also comes with excellent corrosion, chemical, and temperature resistance. RapidDirect customers seeking to work with Titanium can choose from two machinable alloys. These are Grade 2 Titanium and Grade 5 Titanium (Ti6Al4V). Grade 2 has a high corrosion resistance, while Grade 5 Titanium is the strongest Titanium alloy.
RapidDirect Robust CNC Machining Solutions
At RapidDirect, we offer a comprehensive metal material selection for CNC machining, including many of the most popular CNC machining metals and more specialized options. We have an extensive range of CNC machining materials that cover various applications.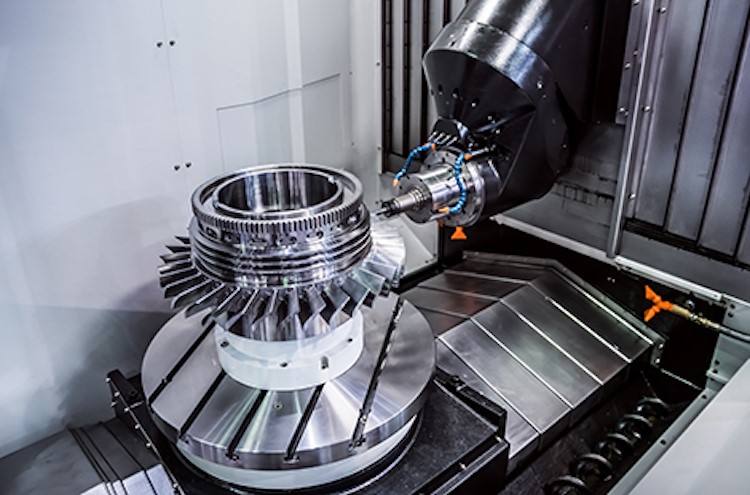 Our experienced and highly skilled engineers have the expertise to select the right materials for your custom CNC parts. All you need to do is upload your CAD file and receive a quote within seconds. You can also get in touch with us for your material requirements. We are ready to help you kick start your project.
Try RapidDirect Now!
All information and uploads are secure and confidential.
Factors to Consider When Choosing CNC Machining Metals
You need to consider several factors before choosing the best machining stainless steel and CNC materials. Regardless of the production stage your product is in, it is important to cut down manufacturing costs without compromising quality. Here are some of the important considerations for choosing the most cost-effective metal for your machined part.
Manufacturing Time for CNC Machining Metals
If your aim to keep overall costs low, it is important to consider the manufacturing time needed for that material. High-strength materials like milling stainless steel require high-grade turning and milling. These processes need high-end equipment, some of which come at higher prices. Also, custom machine parts requiring high precision also increase manufacturing time. Such parts include pneumatic value for medical machines. Ensuring the preciseness of the different turns, notch, and divot may drive up the cost.
Environment For Part Use
Choosing a suitable CNC metal for varying environments will is always important. You may need a custom CNC part that can withstand temperature and pressure extremes. In this case, you need corrosion-resistant and strong materials so you won't have to incur too many maintenance fees. On the other hand, you can choose cheaper and less strong metals for home appliances and other low-intensive use parts.
Weight and Strength Requirements for CNC Machining Metals
The strength and weight of the material you choose have a profound impact on production cost. Heavy milling stainless steel and iron often weigh more, leading to higher costs. If your application is not weigh-intensive, it will be smart to look in another direction. Similarly, endurance strength is critical for material selection due to increase wear resistance, tensile strength, and hardness.
Post-Processing Treatments Required for CNC Machining Metals
Does the material you choose require some processing after production? This is an important factor to consider when choosing cost-effective CNC machining metals. Post-processing may drive up costs. Choosing the right CNC metal that can function properly with as-milled finishes may be the best way to go.
Conclusion
Whether you are designing custom home appliances or industrial equipment for the automobile and aerospace industry, you need a cost-effective CNC metal. This article discussed the most common metals used for CNC machining. However, there are many more CNC machining metals available for you to choose from. It is important to work with an experienced manufacturer to guide your choice. RapidDirect is always ready to recommend the best solutions for you.