At RapidDirect, customer satisfaction is our priority, and we are taking it to the next level. In the past, requesting quotes on mobile devices has always been inconvenient for customers. It was even more difficult to view previous quotes and manage their orders. Some may provide mobile versions, but they are either too complicated or don't allow users to upload their design files.
We feel your pain, and we strive to solve that. Introducing the unique mobile version of our instant quotation platform! This newly developed mobile version comes with improved functionality to help you and your team ensure faster product development. We have designed this platform to help you get simpler and quicker access to technical support for your manufacturing needs.
Let's take a tour to see some of the excellent functionalities you will enjoy from this innovation.
Clean and Intuitive Interface
A major problem with requesting quotes on mobile devices was the messy interface. However, RapidDirect has eliminated this issue on its latest mobile online quotation platform. Once you enter our platform, you will notice the new and streamlined display aimed at improving your experience.
The interface is also simple, clean, and intuitive. Everything is clearly written and properly arranged to ensure easy navigation. The color scheme is also consistent; we have removed unnecessary elements to create consistency and uniformity. This way, we ensure that you spend lesser time uploading files, getting quotes, and ordering parts.
Streamlined Steps to Get Quotations
When using many other mobile versions, customers usually cannot upload their design files using their mobile phones. Also, it may be challenging to create new accounts with mobile versions of some platforms. RapidDirect has improved on this to give you a seamless ordering process.
Once you click "Request A Quote", you will be taken to the interface where you can choose the technology you want to use. You can easily pick between CNC machining, sheet metal fabrication, injection molding, and 3D printing.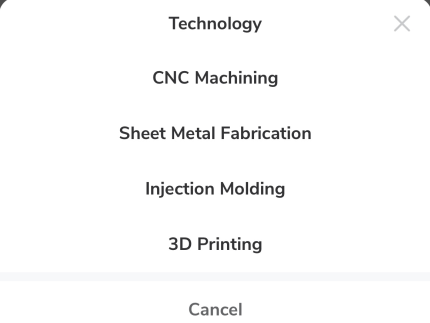 Once you select a technology, the next step is to configure your part details. Here, you can seamlessly select from the wide array of materials ranging from aluminum to alloy steel, stainless steel, copper, plastics, and others, and choose the surface finish you want for your product from as-machined finish, bead blasting, polishing, brushing, etc. Furthermore, our platform will filter suitable surface finishing according to the material you choose, which saves you time in turn. Next, specify the part quantity by hitting the "+" or "-" sign on your screen.
Easy so far? It even becomes easier! The final step enables you to upload your 3D CAD file. You can upload as many design files as you feel necessary. Our mobile version of the online quotation platform allows you to choose files from your mobile device or take a photo. Then, you can give us further essential remarks in the space provided. All of this in the comfort of your mobile phone!
Easy Management for Quotes and Orders
RapidDirect's mobile quotation platform is your best bet if you love a clean, orderly user interface. After you've created an account with us, requested quotes, and ordered parts, you can seamlessly organize your account on our mobile version. Simply tap "My Quotes" as shown below, to check your previous quotes. The "sort" function also allows you to sort your quotes based on your desired variable. You can also easily search for specific quotations.
One more appealing feature! You can click on "My Orders" to gain access to your order history. This handy feature ensures quicker and easier order management. You can easily track each status of your orders like material preparation, start production, quality inspection, etc. What's more, you can cancel orders, and contact support for inquiries. This is as intuitive as it can get!
RapidDirect – Bring Your Idea to Life!
As our manufacturing capabilities grow stronger at RapidDirect, our quotation platform is also improving. We're dedicated to delivering a superior user experience through the mobile version of our quotation platform. This way, you can request quotes and order parts quickly, review detailed information of your previous quotes, and even track the production process of your parts on your mobile phone. Our commitment to customer satisfaction also shows in our reliable manufacturing services.
So what are you waiting for? Upload your design file today and get instant quotes for the best quality parts.