Attention all manufacturers and designers! We have exciting news to share with you. We have just launched the latest online platform, version 3.0!
We strive to enhance our customers' experience by simplifying and expediting the process of ordering custom parts or prototypes. Our development team has been continuously refining our quotation engine, incorporating various tweaks and modifications to make it more user-friendly.
The updated platform boasts a fresh and intuitive design, along with enhanced functionality that streamlines and accelerates the quoting process, like a new manufacturing process, streamlined quoting summary page, and improved checkout page. To learn more about the changes, we invite you to continue reading. Alternatively, you can experience the improvements firsthand by beginning a quote on our updated platform today!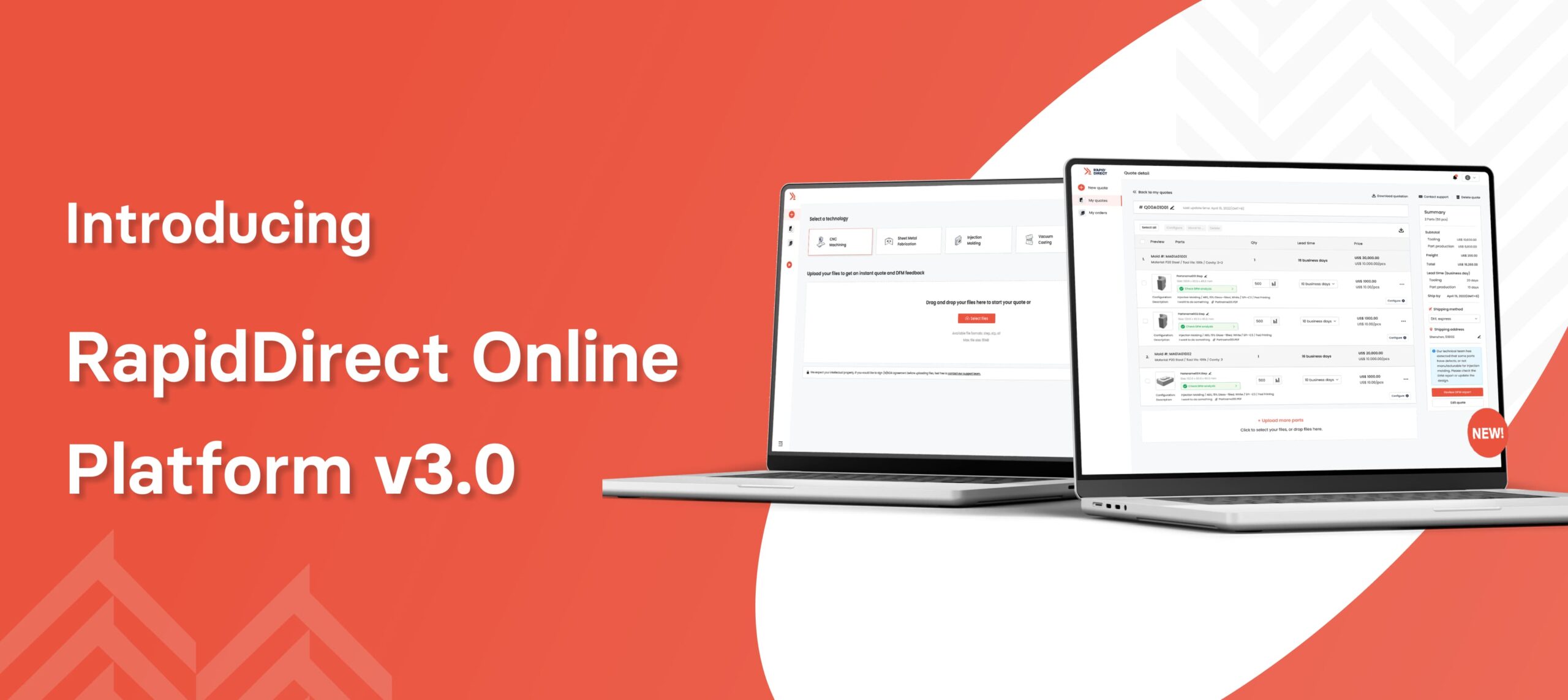 New Improvements in the 3.0 Version
Now let's review some updates on our online platform.
Home Page With New Technology
Our platform has just added a brand-new technology to its arsenal: Vacuum Casting, offering a new level of flexibility and customization. With it, you can configure materials, surface finishes, and other product requirements to fit your exact specifications. This means you can create your vacuum casting project from prototyping to high-quality production runs with ease. But that's not all – we're constantly improving our platform, so you can look forward to even more manufacturing processes in the future.
Detailed, Professional Injection Molding Quotation Process
As a well-known fact, injection molding projects can be complicated and demand meticulous attention to detail to ensure that high-quality molds and plastic parts are produced. Our detailed and comprehensive quoting process has been designed to meet this challenge.
Our team of experts will thoroughly review and analyze every aspect of your project, including the DFM of molds and parts. This approach ensures that any issues are identified and addressed early on in the process, saving you time and money in the long run. Once we have completed the mold, we will provide you with a sample for your review and approval. We will not proceed to mass production until you are satisfied with the sample's quality and that all requirements have been met.
Individual Quoting Summary Page
The quoting summary page is at the heart of the instant quoting experience. Now our platform offers an individualized quoting summary page, as well as an enhanced and dynamic layout. The new quoting summary page ensures that you have a comprehensive overview of your quotation, including the quoted price, lead time, delivery date, and other relevant details, all in one place. This enables you to evaluate each quote efficiently and make well-informed decisions.
Furthermore, the quoting summary page offers an unparalleled level of transparency by breaking down the quoted price (production price and freight), ensuring an optimal experience throughout the quoting process. Our aim is to empower you with the knowledge and insight you need to make confident decisions about your project.
Real-Time Updates of RFQs in the Cloud
Imagine this: You've spent hours perfecting your design files and configuring your parts, only to be interrupted before you could complete your order. But don't panic! With our new and improved platform v3.0, you can easily save and organize your quotations for easy access in the future. Simply head to "My Quotes" and find your order number to continue your seamless quoting experience. This can save a lot of time and effort for you, as you don't have to start from scratch every time you need to create a quote.
Re-Configuring RFQs to New Requirements
To provide greater customization, our new platform allows users to reconfigure part requirements before placing an order, eliminating the need for a time-consuming and costly order placement process. With this new feature, you can easily set up new requirements and receive a new quotation, resulting in improved efficiency and reduced wasted resources. The platform's intuitive interface allows for seamless customization of part requirements, making it easy to get exactly what you need without the hassle of canceling and starting over.
Move Your Part to Another Quote Folder
Are you looking for a more efficient way to manage the production of your parts? Do you have parts with different lead times, but need some of them sooner than others? We understand how important it is to get your parts on time and we want to help you save time and money.
That's why our platform v3.0 adds a feature that allows you to move your parts into another quote so that you can receive the parts you need quickly while still being able to have the longer lead time parts produced on time. Our flexible production process allows us to prioritize your most urgent needs and ensure that you receive the parts that you need quickly.
View Activity and Details with New Layout
Upon successful payment and order placement, you will be granted access to the "Activity" and "Details" sections of your order, which can be found on the "My Orders" page. With the updated version 3.0 of our platform, you will enjoy a more user-friendly interface that facilitates seamless navigation and easy access to information related to your orders.
Our platform's improved layout features intuitive graphics, easy-to-read lists, and well-organized categorization of order activity by date, status, and other relevant criteria. This allows you to conveniently track the status of your orders and receive real-time notifications regarding any updates or changes.
Try It Today
Gone are the days of waiting for quotes to come through. With a fresh layout and improved features, our online platform v3.0 make the quoting process faster and more efficient than ever before, giving you more time to focus on what matters most: growing your business.
And the best part? We're currently offering an incredible 20% discount on all first-time orders! If you have a new project, don't miss out on this opportunity and quickly upload the necessary files and apply the coupon code.
So what are you waiting for? Try out our new online platform today and experience the benefits for yourself. We are confident that you will find it to be a game-changer for your business. Also, keep an eye out for updates and improvements – the future of digital manufacturing is here!