The aircraft or aviation industry has kept pace with the advancement in technology, which has led to the production of newer and more durable aerospace fasteners. This hardware has helped to effectively hold the parts of commercial airplanes, military aircraft, jets, ballistic missiles, and space-bound rockets.
Due to the extreme pressure and temperature conditions under which the aircraft fasteners operate while leaving the earth's atmosphere, the design and construction should be highly durable with top-notch quality to withstand these harsh conditions. Meanwhile, the production of these aerospace or commercial aircraft fasteners relies on the fast-advancing technological developments within the aerospace industry.
Besides the information above, this article will give you a thorough understanding of these fasteners for aerospace, including their characteristics, materials, types, and other related aspects. So, read on as we provide you with this great information.
What are Aerospace Fasteners?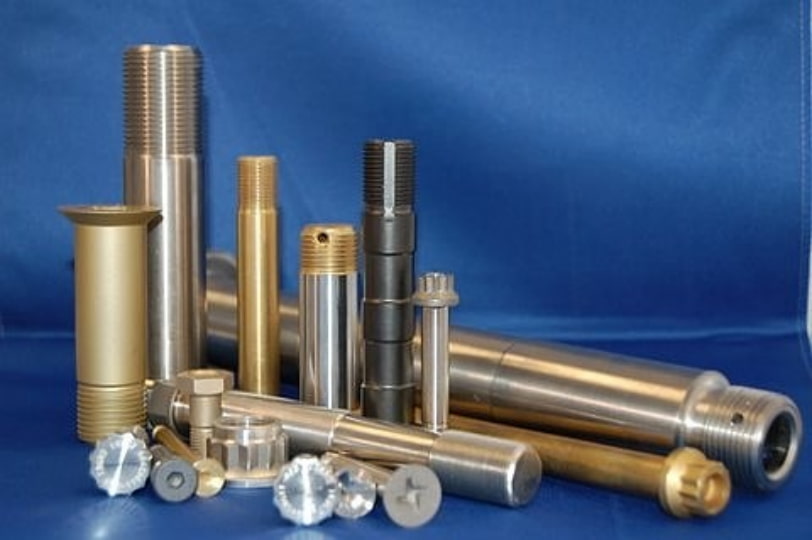 Aerospace or aircraft fasteners, one type of CNC machining aerospace parts are applicable specifically in the production of aerostructure. The aircraft detail parts are assembled in many production locations rather than being produced in a single plant. Also, these fasteners are necessary to join these parts into a complete airplane in the final aircraft assembly.
The aerospace industry is stringent when it comes to safety and weight. As a result, the fasteners used in manufacturing the aircraft are high quality and extremely durable.
Fasteners also can assemble aerostructures such as the fuselage, wings, empennage, nose, pylon, nacelle, flight control surfaces, and many more. Besides, they provide attractiveness and durability to commercial and military aircraft designs.
Additionally, aircraft fasteners give the aerostructure rigidity, making them an essential part of the aircraft. These fasteners are of different types, which include nuts and bolts, screws, rivets, and many more.
Characteristics of Aerospace Fasteners
Aerospace or aviation fasteners must be highly robust to survive tremendous gravity pressures. They are critical pieces of hardware that influence the aircraft's overall safety and efficiency. Moreover, to efficiently keep manufacturing and use in check, these fasteners must pass stringent standard certification.
These fasteners have applications in any equipment that demands high-precision and high-quality attachment. The following are some of the most common properties of these fasteners:
Operates in harsh situations
High shear, fatigue, and tensile strength
Self-sealing and self-locking capabilities
High corrosion and oxidation resistance
Lightweight design
Aviation Quality Standards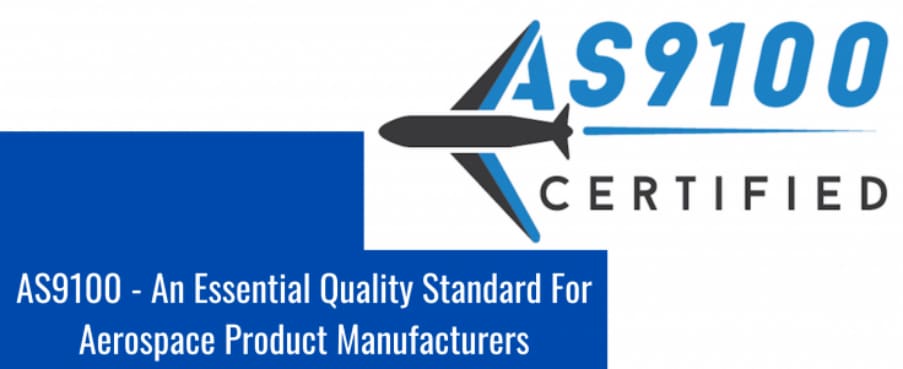 The AS9100 and AS9120 quality management standards have wide use in the aerospace sector. AS9100, BS9100, and EN9100 are standards for organizations designing and manufacturing aerospace goods, such as parts, components, and assemblies. On the other hand, AS9120, BS9120, and EN9120 are standards for manufacturers and distributors of aerospace parts.
Commonly Used Fasteners in the Aerospace Industry
There are some fasteners for aerospace that have wide applications in the commercial aviation industry. Also, there is an overview of the different types of fasteners for aircraft and how they compare and differ.
Aircraft bolts: These are made of unplated corrosion-resistant steel, zinc plated corrosion-resistant steel, cadmium, or anodized aluminum alloys. Moreover, the commonly used bolts for aircraft are MS bolts, close tolerance bolts, NAS internal wrenching, and AN bolts.
Aircraft nuts: These are threaded fasteners made of cadmium plated carbon steel, stainless steel, or anodized 2024T aluminum alloy. Besides, they are always used in conjunction with a mating bolt or screw. There are two types of aircraft nuts: non-locking and self-locking.
Aircraft screws: These fasteners are the most common thread fastening method with a helical ridge, called an external thread. They are often composed of lower-strength materials than bolts and inserted with a loose-fitting thread.
Aircraft rivets: These fasteners have a smooth cylindrical shaft with a head on one end and are used to join two or more metal sheets, plates, or pieces of material. The rivet's shank is placed into matched holes in two pieces of material, and the tip is upset to produce a second head that securely clamps the two parts together.
Aerospace Collars (Lock Bolt Rivet): These fasteners fit seamlessly with lock bolt rivets (available separately). They aid in attaching the rivet or bolt to the object and have compatible metal alloy bodies.
Special Fasteners Used on Aircraft
These unique fasteners have applications in place of standard AN nuts and bolts, and they have high metal strength while being lightweight. Most Light sport aircraft also make considerable use of special fasteners (LSA). Some of the most commonly used special fasteners are as follows.
Taper-Lok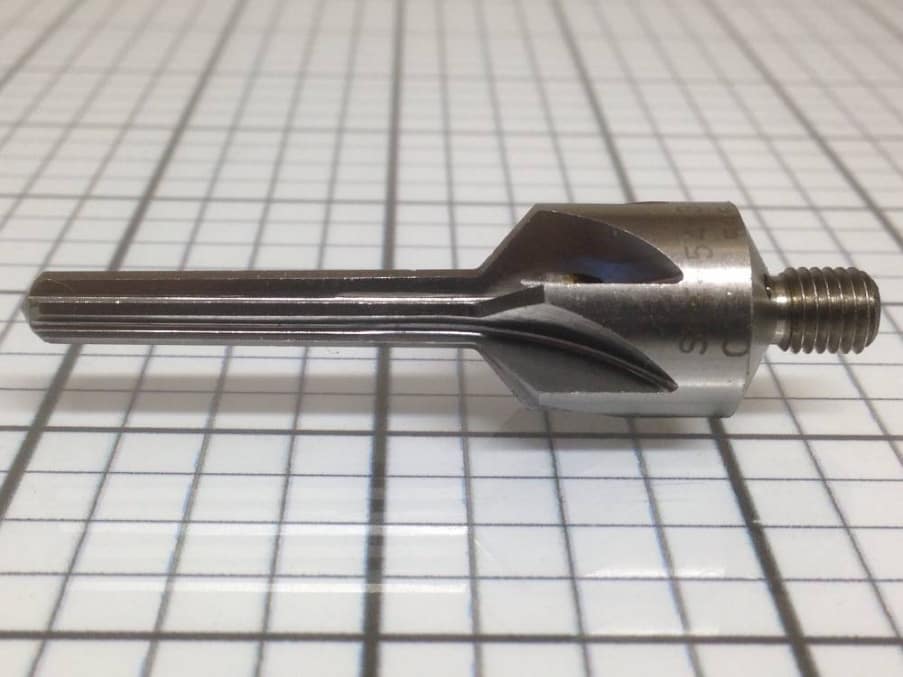 The strongest special fasteners utilized in airplane building are Taper-Loks. They have a tapered design that makes them exert a force on the hole's walls. Unlike a rivet, the Taper-Lok is to fill the hole without deforming the shank.
On the other hand, the washer head nut squeezes the metal against the hole's tapered walls with considerable force. Forcing the metals together can create radial compression around the shank and vertical compression lines. The combination of these pressures produces a level of strength that no other fastener can match.
Hi-Tigue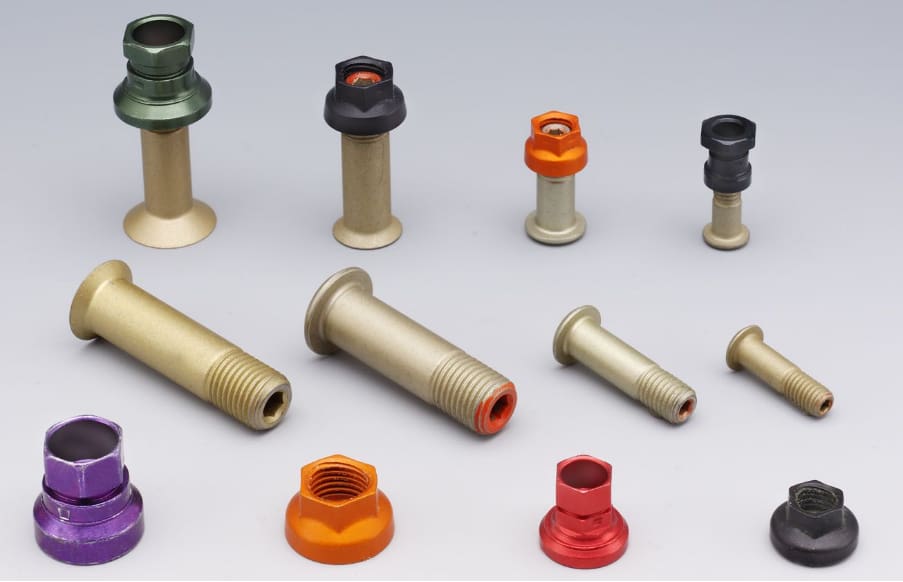 A bead encircles the bottom of the Hi-Tigue unique fastener's shank. The bead increases joint strength by preloading the hole it fills. It presses against the hole's walls during installation, creating radial stress that reinforces the surrounding area. The joint is not subjected to the constant cyclic activity that causes a joint to get worked or fail because it is preloaded.
The common materials used to make the Hi-Tigue fasteners are:
Aluminum
Titanium
Stainless-steel alloys
Its collars come in two types: sealing and non-sealing. They utilize appropriate metal alloys to form. They can be installed with an Allen wrench and a box-end wrench, just like the Hi-Loks.
Turnlock Fasteners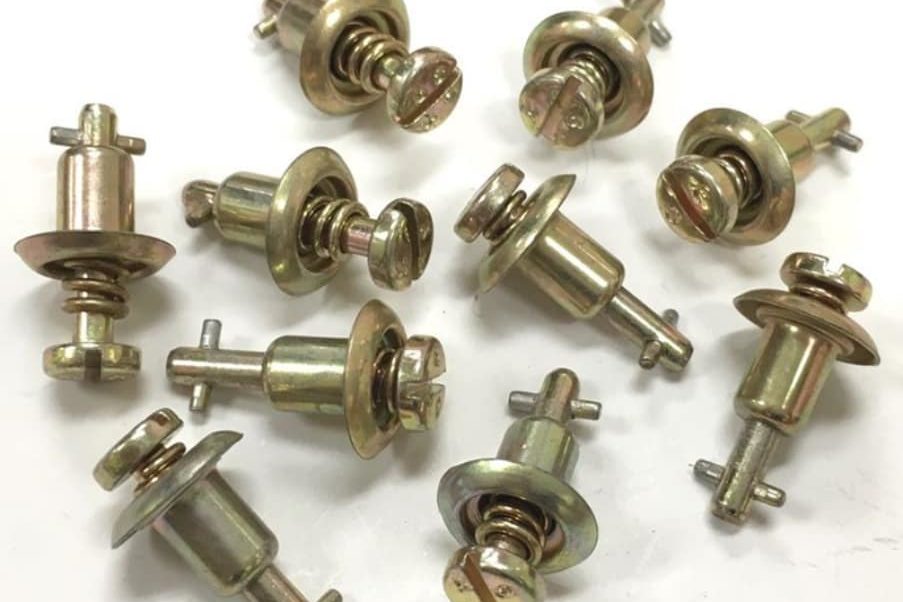 Turn-lock fasteners can secure inspection plates, doors, and other removable panels on aircraft. This aerospace hardware is also famous for quick opening, quick action, and stressed panel fasteners.
These fasteners allow easy removal of access panels for inspection and maintenance. They are made and sold under a variety of brand names by several companies. The Dzus, Camloc, and Airloc are three of the most popular.
Dzus Fasteners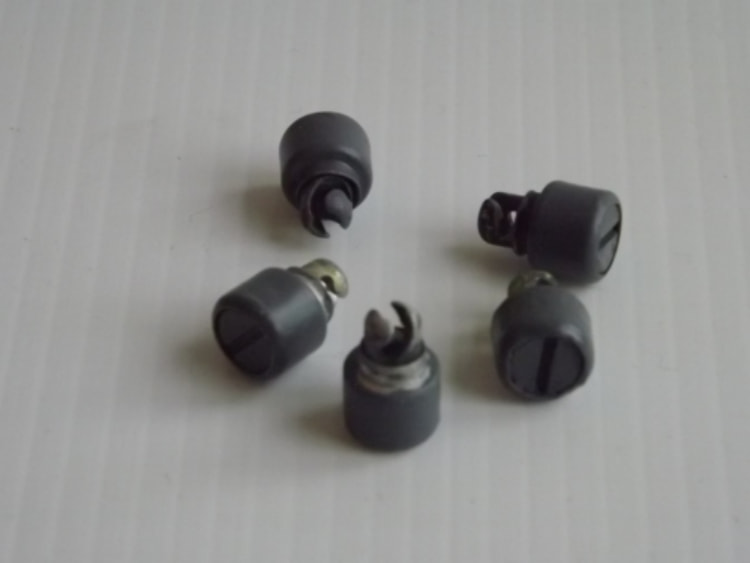 A stud, grommet, spring, and receptacle make up the Dzus turn-lock fastener, while aluminum or alloy make up the grommet. If no grommets are available from usual sources, they can use1100 aluminum tubing to form.
The spring has a cadmium-coated steel body that keeps it from corroding. Once linking two assemblies, the spring provides the force that locks or secures the stud in place.
The studs are made from steel and coated with cadmium. There are three different head types: wing, flush, and oval. The markings on the stud's head have use in identifying or determining the body diameter, length, and head type.
As mentioned before, fasteners for the aircraft industry include standard and special fasteners, which should meet rigid and rigorous standards to withstand extreme environments. If you are looking for high-quality custom fastener solutions, RapidDirect is your best bet. RapidDirect is a professional manufacturing service provider by producing high-quality custom aerospace fasteners as well as numerous common fasteners.
We own strong manufacturing capabilities to make sure you the shortest lead time. We also offer you an instant quote and automated DfM analysis for your aircraft fasteners. Feel free to check it out.
Try RapidDirect Now!
All information and uploads are secure and confidential.
What Are Aerospace Fasteners Made Of?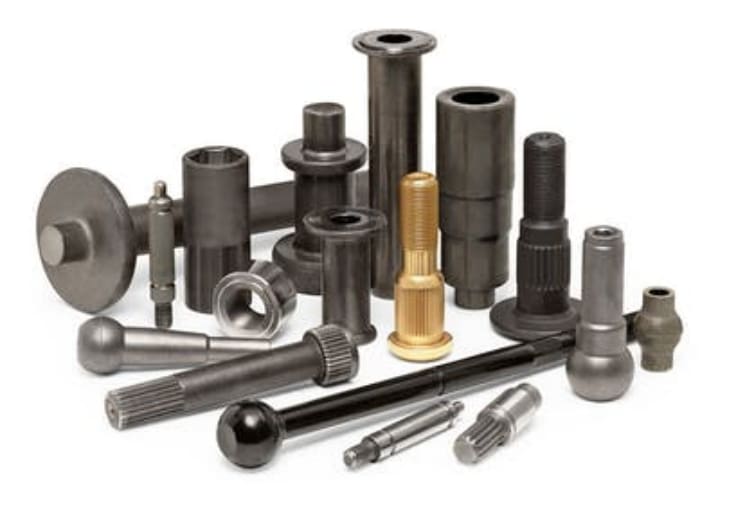 There are different types of fasteners for the aircraft industry, and not all materials are ideal for the production of these fasteners. The reason is that the material makeup of these hardware determines their characteristics. Below are some materials for the production of the different aircraft fasteners types:
Aluminum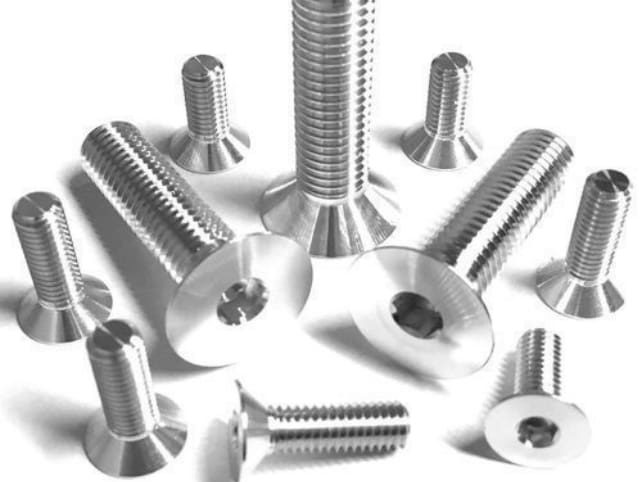 This material is a lightweight metal for producing different aerospace parts due to its availability and affordability. Although used in manufacturing plane parts, this material has some limitations that need additional surface treatment to enhance its properties.
An instance where aluminum comes to play in aircraft fasteners is the rivets. This hardware is often cold-formed (making metal pieces without heat to produce highly durable pieces). The Al7075 is the most popular aluminum alloy for manufacturing fasteners due to its high tensile strength and resistance to fatigue.
Steel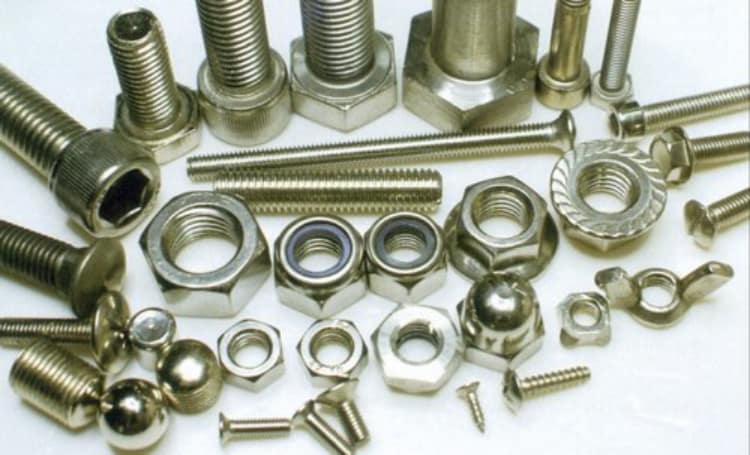 Steel is three times as strong as aluminum, but this strength also increases its weight. Since aviation fasteners should be as lightweight as possible, the steel weight poses a challenge.
There are different types of steel, but for manufacturing fasteners for aircraft, stainless steel and alloy steel are ideal. Their strength makes them better for producing screws and bolts used on aircraft surfaces and landing gear.
Titanium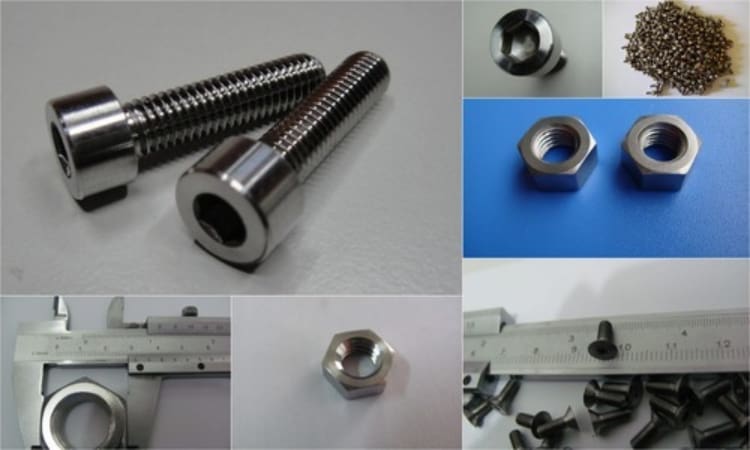 In the manufacturing of some commercial aircraft fasteners, titanium material could replace aluminum. Also, this metal has a strength comparable to that of alloy steel and steel. Besides, it is lighter than steel and has high heat and cold resistance.
Super Alloys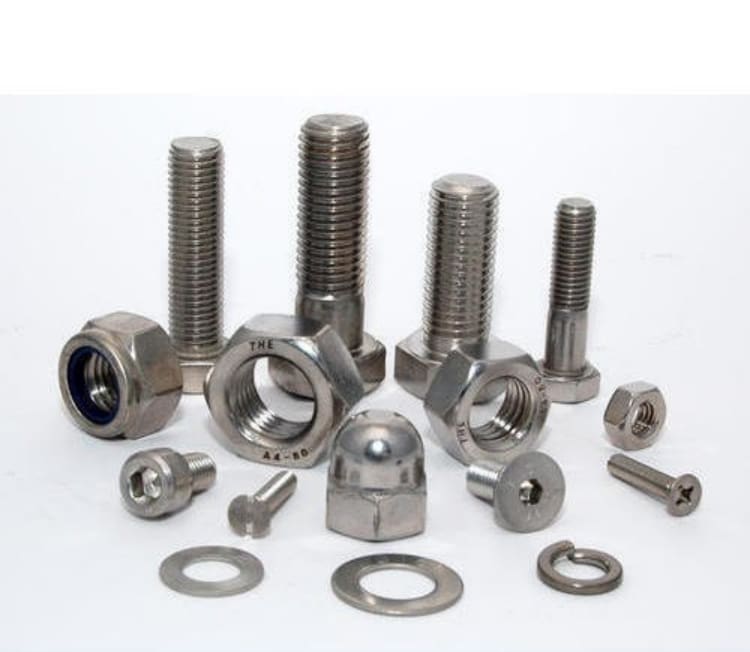 Their ability to withstand extreme pressure and temperature conditions makes these alloys perfect for use in the aerospace industry. Also called high-performance alloys, they are highly versatile, maintaining their surface and structural integrity in extreme conditions. Below are the superalloys for the aerospace industry:
Hastelloy: Has a high corrosion resistance. They have applications in the exhaust and combustion components of an aircraft.
Inconel 780: High tensile strength alloy for the manufacture of bolts and nuts.
A286: An alloy of iron, nickel, and chromium, used because of its high tensile strength, resistance to oxidation, and corrosion.
Now you know the materials used to manufacture fasteners for aircraft construction and their characteristics.
Aerospace Covers
Commercial aircraft Fasteners require covers to give them added protection against environmental and atmospheric conditions. There are a wider variety of materials for making fastener covers, including;
Cadmium
Zinc
Silver
Nickel
Phosphate
Black Oxide
These covers help improve the durability of fasteners greatly.
Conclusion
Aerospace fasteners are a vital part of any aircraft, and without them, the aircraft would be just parts and unusable. This article has provided great insight into the fundamental aspects of fasteners used for aircraft construction. Many companies specialize in manufacturing these aircraft fasteners, and one of the chiefs among them is RapidDirect.
RapidDirect specializes in the CNC machining of aerospace parts and provides instant quotes and automated DfM analysis. We have been manufacturing standard and custom fasteners for our valued customers for over a decade, and we are happy to leverage that successful cases to provide you with the best aerospace fasteners and other aircraft hardware. With a team of experts and professionals as well as a fast lead time, you're sure of getting a high-quality standard.
FAQs
What Is The Importance Of Fasteners In Aircraft?
Aircraft contain parts requiring frequent servicing, and these fasteners make the process easier. The aerospace hardware makes it easy to dismantle and replace worn aircraft parts.
What Are Aircraft Structural Fasteners?
There are two major groups of fasteners, which include structural and nonstructural. The structural fasteners carry aircraft loads, while the nonstructural types connect parts of the air with no load.
Also, there are restrictions on access fasteners that are stronger and often used to keep authorized individuals out. Fasteners such as Huck lock bolts and CherryMax fasteners fall in this category.
Why Use Blind Fasteners in Aircraft?
Fasteners like blind rivets are ideal for coupling multiple parts together in airplanes. They are applicable to less or inaccessible areas of the aircraft. These areas include trailing edges.