On March 3. 2022, we have launched the V2.2.0 new update for our digital manufacturing platform. This new platform with a more intuitive, user-friendly interface allows you to configure your projects in a quicker way, view a more transparent manufacturing process, which means less time uploading, quoting, ordering your custom parts, and more time on your other projects. More importantly, the outstanding feature-free online design for manufacturability (DFM) analysis is still built in our instant quoting platform but is more intuitively visible.
In this article, we will show you key features of our new platform that help you accelerate the implementation cycle from design to quotation to final products.
Place an Order
To get started, we will be showing you the easy steps to generate a quote.
Choose Technology
At the "Get a Quote" page, you can start by selecting technology from the four major services we provide, which are CNC machining, Sheet Metal Fabrication, Injection Molding, and 3D Printing. Let's take "CNC Machining" service as an example for the next steps.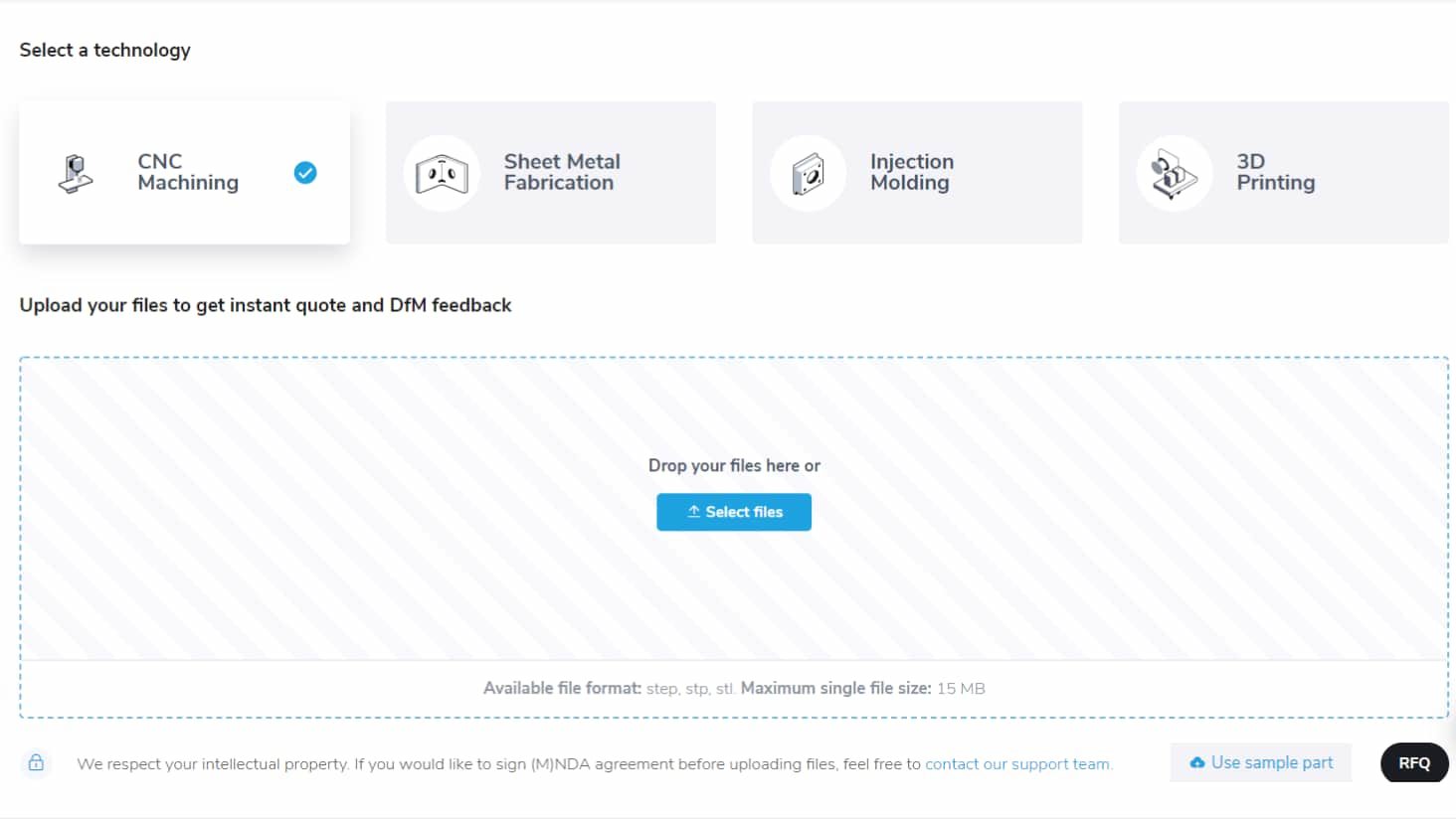 Upload Files
After choosing the technology, the next step is to upload your CAD design files. You can simply drag the files, or click on the box to select files from your computer. Please note that the available file formats are STEP, STP, and STL, and the maximum size of each file should be under 15MB.
We developed state-of-the-art instant quoting algorithm that automatically analyzes your parts with complex geometry. As a result, it only takes less than 5 seconds for our platform to analyze your design files and provide the instant price for the parts uploaded.
Configure Parts
After uploading the design files, it's time to configure the details. By clicking the "Configure" button, you can edit the quantity, material, and surface finish for each part. We provide hundreds of materials and surface finishes for your diverse needs, you can simply search to filter the list, or select from the drop-down menu.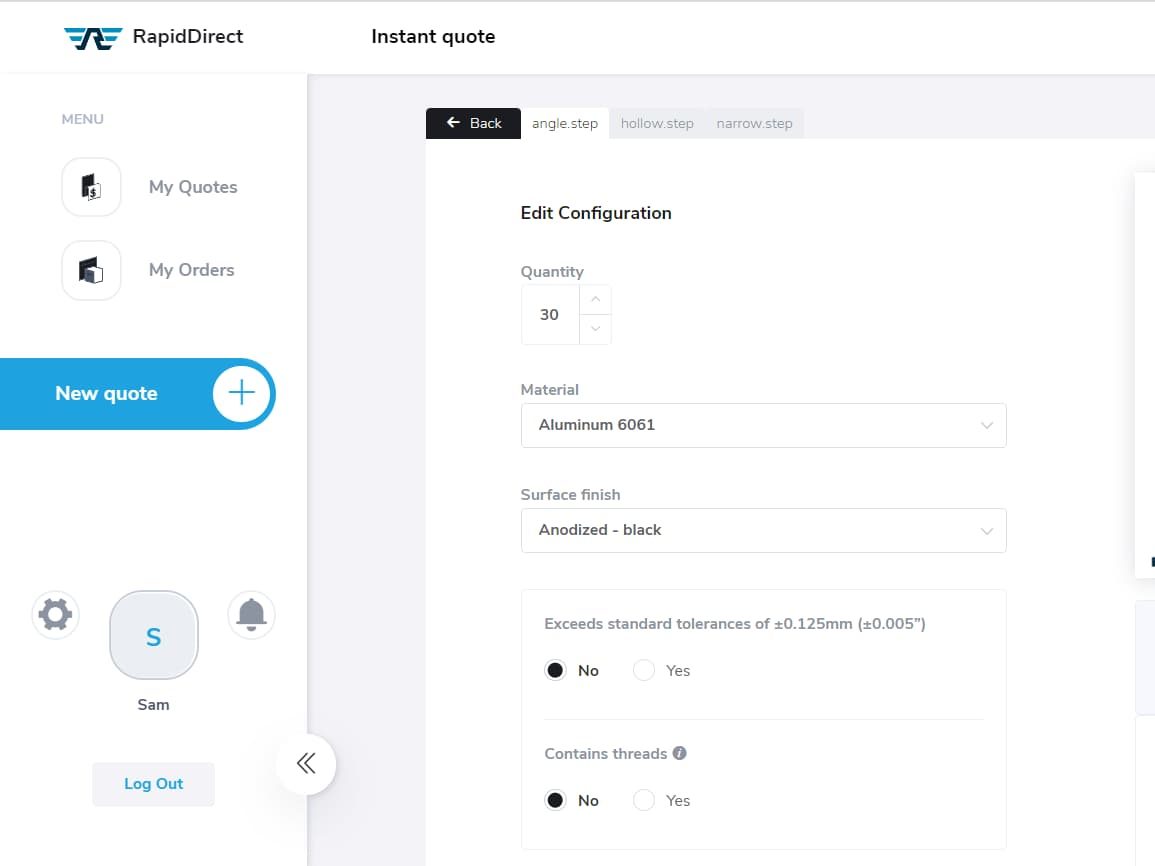 As you edit the configurations of your quote, the price updates are immediately shown on the right of the page.
If your part requires tighter tolerance or contains threads, you can also upload your 2D drawings that include geometric elements. Once finishing the configurations for each part, click on the "Finish" button to go back to the "Get a Quote" page.
Check DfM Feedback
Our instant quotation platform also provides automatic feedback on the manufacturability of your parts for FREE, showing you what manufacturing issues will make them impossible or expensive to produce.
You can click on the "Check DfM Feedback" button to view the manufacturability analysis of your part. In the DFM report, you will be able to check if your part passes "Deep holes & small holes", "Internal corners", "Thin wall", "Narrow areas", and "Hard to remove volume" detection.
Choose Lead Time and Shipping Method
On the top of the "Get a Quote" page, you can change the lead time and shipping method options. For lead time, we provide "Economy", "Standard" and "Expedited" for your different lead time and budget requirements. For the shipping method, you can choose between "DHL" or "UPS".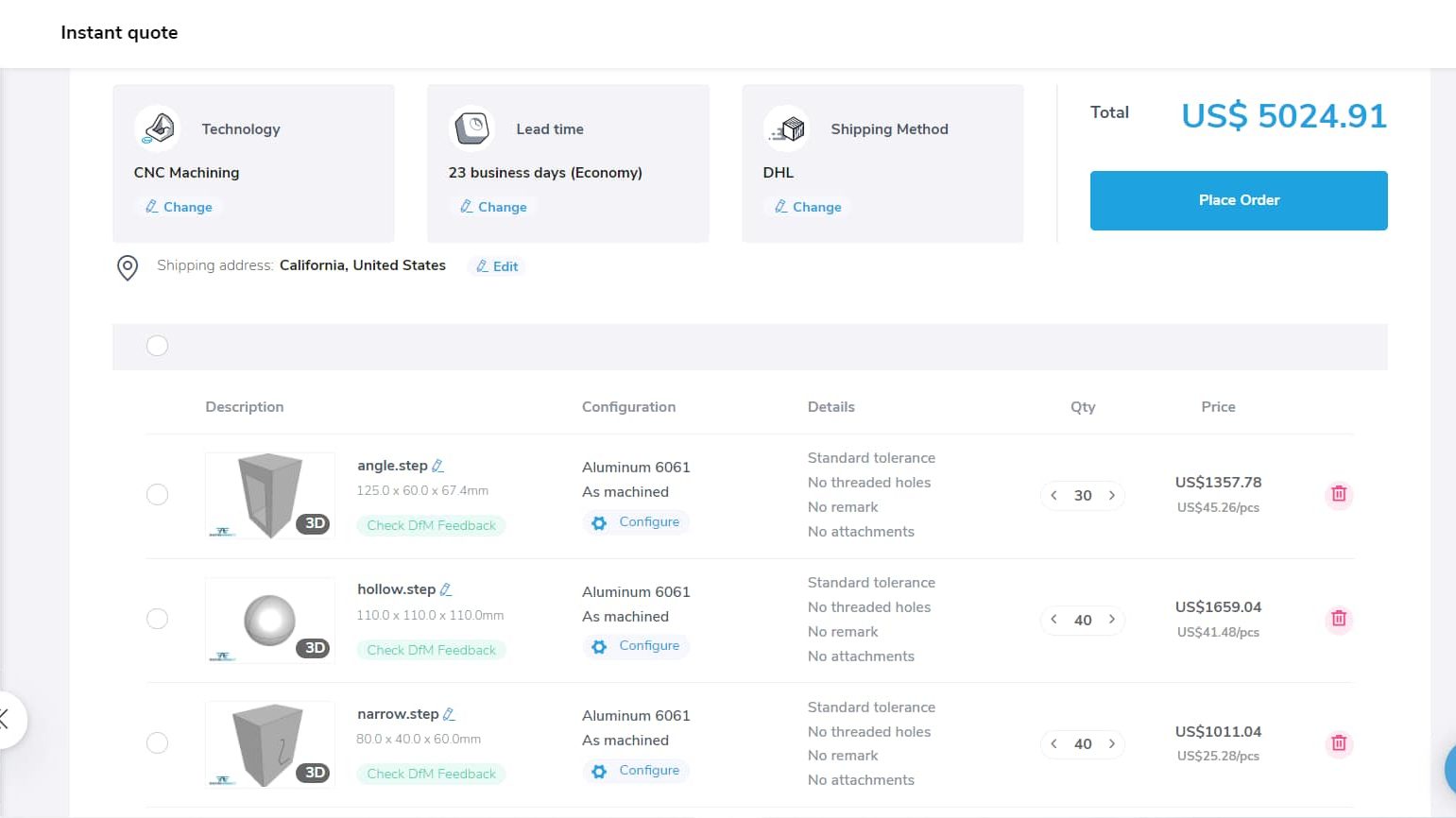 Select Payment Method
Once done, you can click on the "Place Order" button and proceed to the checkout page. At the checkout page, you can overview the order information.
Considering the payment method, we accept multiple instant payment methods, like PayPal, credit card, bank transfer. Just pay the way that suits you.
Finally, hit "Start production" button to get your parts into production.
Try RapidDirect Now!
All information and uploads are secure and confidential.
Real-Time Production Updates
Our platform allows you to keep track of your order every step of the way, from which you can get real-time and transparent visibility into each production phase. For example, you will be directed to the order overview page after finishing the payment, and you can see your order moves into the production phase. To check the manufacturing process of your parts, you can click the "View activity" button to view photos of each status like material preparation, start production, quality inspection, etc. Besides, we will be sending notifications and e-mails to you when the order status is updated.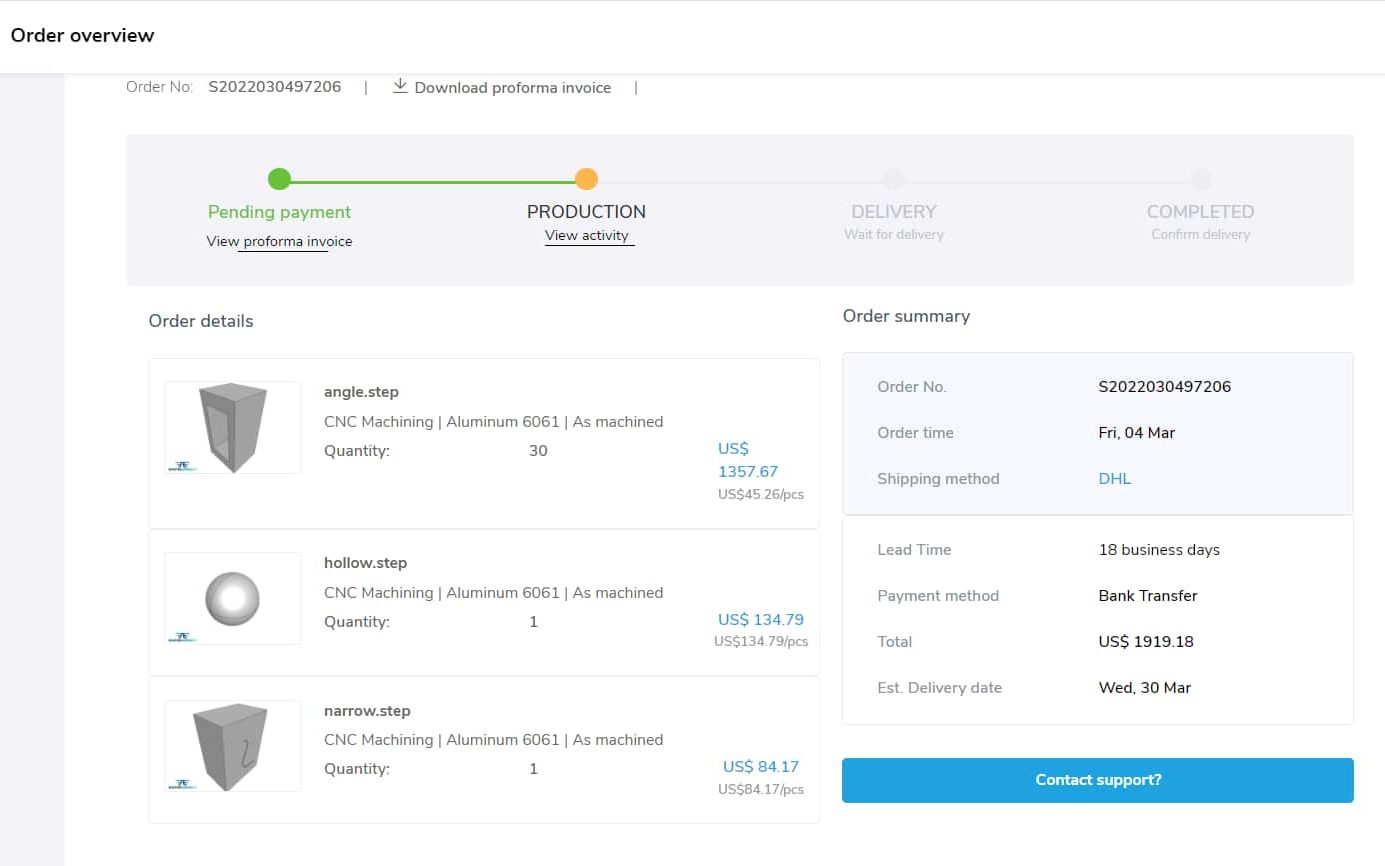 Manage Orders in One Place
Our platform also makes it a breeze to manage all quotes and orders in one place. You can easily check configuration details, design for manufacturability analysis, invoices, inspection report and production status for all your previous orders. Just click "My Quotes" or "My Orders" to check your quotes or orders on the left side of the page.
If you want to request for a new quotation, just click "New quote" and upload your design files.
RapidDirect: Leading Instant Quotating Platform for Rapid Prototyping and Custom Parts Manufacturing
RapidDirect is the world's leading digital manufacturing platform for rapid prototyping and custom parts manufacturing. Our powerful capabilities deliver custom parts in as fast as 3 days with automated CNC machining, sheet metal fabrication, injection molding and 3D printing process.
Different from traditional manufacturing, RapidDirect has launched an automation-driven digital platform that utilizes proprietary algorithms to deliver fast, accurate, competitive quotations, free DFM feedback, and production transparency for industrial-grade parts and components. With technological advancement in manufacturing, we are constantly upgrading the algorithms and order management system that enables supply chain agility through a digital quote-to-order cycle.
The new instant quotation platform is now live for all users. Upload your parts and try it today!