Injection molding is well-known for its all-around, wide-ranging applications. A big reason for this universal success is the massive variety of compatible injection molding materials.
In this article, we discuss some of the most common injection molding plastics in detail. We will summarize their properties, pros, and cons; and provide you with comprehensive guidelines to choose the best injection molding material for your applications.
Common Materials for Plastic Injection Molding
Injection molding is compatible with so many plastic materials that its products are common in every household and industry. It is virtually impossible to cover all of them in a single write-up. Therefore, we have hand-picked the most popular ones.
Acrylic (PMMA)
Poly (methyl methacrylate), better known as Acrylic, is a thermoplastic material that has decent mechanical strength, is lightweight, and has a clear, see-through appearance. Although not ductile, it sports good shatter resistance.
Moreover, one of its biggest strengths is its ease of machinability. After injection molding, acrylic parts are easy to alter and finish.
PMMA has a few drawbacks worth noting. Firstly, it is prone to scratching, which not only compromises its clarity but also affects its overall appearance. Additionally, PMMA has a tendency to accumulate oils and greases, further impacting its clarity and surface properties. Lastly, it exhibits poor performance in extreme temperature conditions.
Common applications of Acrylic are decorative showcases, protective casings for solar panels, windows, etc.
Acrylonitrile Butadiene Styrene (ABS)
ABS is one of the well-recognized injection molding materials. It has good strength and toughness, impact resistance, and chemical resistance to acids, bases, and oils. It is completely opaque and can be injection molded in many colors. On top of this, it is quite cheap compared to other plastic injection molding materials in this list.
However, it does not fare well under direct sunlight or moist environments though. It is better to avoid such applications.
ABS is highly suitable for industrial-grade applications like automotive parts and high-impact sports equipment. It is also very popular for rapid prototyping due to its costs and functional capabilities.
Nylon Polyamide (PA)
Nylon is an excellent material with high toughness, heat resistance, and surface friction/wear properties. It is a natural compound that is also manufactured synthetically. Its synthetic form is highly utilitarian for injection molding applications. " Additionally, it has vibration-damping qualities that make it ideal for making noise dampeners. Its common grades are:
Nylon 11: A bio-based polymer with good impact strength, dimensional stability, and UV resistance. It also has extremely low water absorption.
Nylon 12: It is quite similar to Nylon 11 but with slightly lower impact strength and higher abrasive and UV resistance.
Nylon 46: It is great for high-temperature applications requiring high impact strength, wear resistance, and chemical as well as electrical resistance.
Nylon 66: A good alternative to metallic components. It has high stiffness, strength, abrasion and wear properties, and fatigue resistance.
Injection molding nylon can be a challenge sometimes owing to its high shrinkage levels. Appropriate allowances and drafts are important to consider during mold design. Moreover, nylon grades tend to react with acids and bases.
Nylon products include gear components, bearings, guitar strings, water- and wear-resistant fabrics, and ropes.
Polycarbonate (PC)
PC has outstanding toughness, shatter resistance, and impact resistance. It has a transparent appearance. Additionally, it has the desirable quality of maintaining its mechanical properties and appearance for a wide temperature range. Thus, it operates well in high-temperature environments.
It does have excellent optical clarity, oftentimes better than glass. This makes it a very popular injection molding material for manufacturing helmet visors, protective machine shields, and goggles.
PC, however, is proven to be bad for the human body, particularly the reproductive system. As a result, it is not suitable for industries like food and beverages.
Polyoxymethylene (POM)
POM is best known for its suitability for products requiring high precision. It has great dimensional stability due to its rigidity and stiffness. Moreover, it has a low coefficient of friction and good lubricity, making it ideal for contact-intensive applications. Furthermore, its properties remain stable at very low temperatures as well.
It is preferable when plastic injection molding hard automotive components such as handles and switches. Moreover, its applications include kitchen knives, gears, furniture, and ball bearings.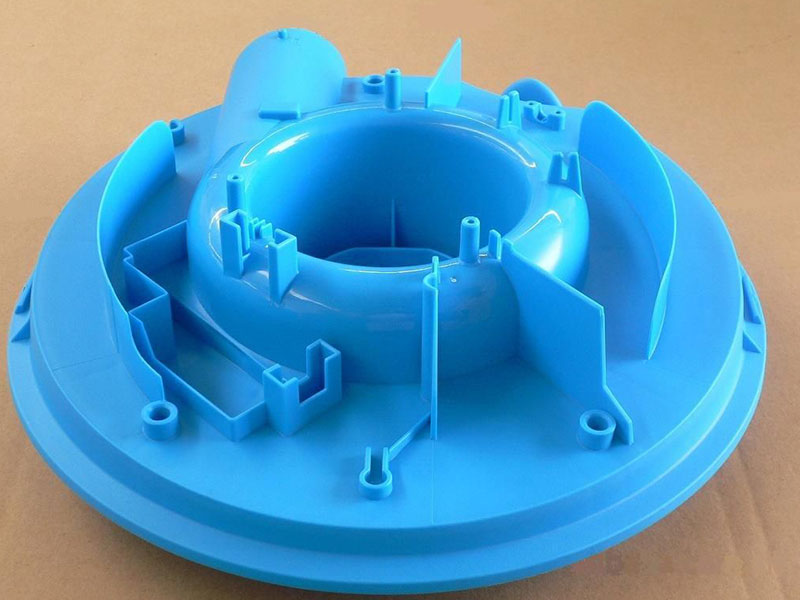 Polypropylene (PP)
PP is found all around us, especially in our kitchen cabinets in the form of food containers. It is one of the most common plastic injection molding materials that are approved for use by the FDA. It is hard, heat resistant, chemical resistant, and recyclable many times. These qualities make it user-friendly.
However, it has a high thermal expansion coefficient. This inhibits high-temperature applications. On top of this, this also makes it difficult to manage during injection molding. After injection molding, it also degrades under Ultraviolet (UV) light and acquires flammability.
Some of its applications include food containers, rugs, toys, and home appliances.
Polystyrene (PS)
PS is one of the few injection molding materials that are brittle. It is exceptionally lightweight, resists moisture and chemical reactions, and is very suitable for injection molding due to its uniform thermal shrinkage inside the mold.
PS is used to make items like toys, appliances, containers, etc. It also enjoys a special position in the medical equipment industry as does not degrade much with gamma radiation, the primary method to sterilize medical equipment. Thus, equipment like Petri dishes, culture kits, etc. are injection molded with PS.
Polyethylene (PE)
PE comes in three main categories that differ in density: High-Density Polyethylene (HDPE), Low-Density Polyethylene (LDPE), and Polyethylene Terephthalate (PET). Generally, PE grades are ductile, have good impact strength, and creep resistance (can hold mechanical loads for long periods of time without deforming much). Also, they are resistant to chemical reactions.
HDPE is stronger and more rigid. Thus, it is useful for items like molding jugs, tubs, and pipes. On the other hand, LDPE is more flexible. It makes an excellent packaging material and has front-running products (shopping bags, foils, films) in the packaging industry worth billions of dollars.
Thermoplastic Elastomer (TPE)
TPE stands unique among injection molding materials in the sense that it is a plastic-rubber blend. It combines the advantages of both materials. It is flexible and can be stretched to long lengths, strong, and recyclable. Moreover, its major advantage is its inexpensiveness among most rubber alternatives.
It is, however, not suitable for use in high temperatures as it loses some of its material properties. Additionally, it should not be stretched too much for too long as it is susceptible to creep.
Its applications are far and wide. It is good for making seals, flexible tubes, footwear components, anti-vibration mounts, bumpers, etc.
Thermoplastic Polyurethane (TPU)
TPU is another rubber-plastic mix with very desirable qualities from its polyurethane composition. It is very hard and has great compression strength, abrasion resistance, and chemical resistance. Furthermore, these properties do not change much at extreme temperatures.
It is one of the most challenging injection molding materials, though. Its hardness and crystallinity can oftentimes pose problems during molding; you need an expert to deal with this injection molding material.
Its applications include protective enclosures and casings, power tools, caster wheels, inflatable rafts, footwear, etc.
This completes our list of the Top 10 injection molding plastics. RapidDirect provides a wide variety of plastic materials for injection molding for you to choose from. With our extensive material catalog, you can be confident about your injection molding material selection.
How to Choose Material for Your Plastic Injection Molding Project
Injection molding is such a broad field that its material options can sometimes be a bit overwhelming, even for professional product developers.
Hence, we present a short and comprehensive injection molding material selection guide. It is not a sure-fire method to pinpoint the injection molding material you need but it can help you shortlist your material options to a manageable few.
Material Hardness: Hardness is an important characteristic that cannot be compromised in most cases. Nylon grades perform well in hardness-related applications. For very high performance, Thermoplastic Polyurethane (TPU) is a strong candidate. However, beware that the material itself and its injection molding is costly.
Flexibility: A bunch of injection molding materials is flexible. Of these, Thermoplastic elastomer and Polypropylene are quite suitable for applications with high flexibility requirements. TPE is usually better in terms of fatigue resistance and high temperature, but PP is recyclable and safer to use.
Cost: In terms of material costs, PP and PS are perhaps the best options. Both are cheap and readily available.
Temperature Resistance: Nylon and ABS are excellent at maintaining their shape and material properties at high temperatures. POM is very stable at sub-zero temperatures.
Applications: It all boils down to the intended application at the end. The material you select should be a strong candidate for the end-user applications.
Which Plastic Material Is Right for Your Injection Molding Project?
Designers can now perform injection molding material selection with the help of these guidelines. For example, if you are making:
Plastic automotive components: The requirements are probably decent enough hardness because they will be used regularly. The material should also be heat resistant because engines produce heat and cars stand in the heat. A good place to start would be ABS since it has these properties and it is cheap.
Shoe soles: These need to be soft and flexible but not so much that it tears apart. It must be lightweight. Water resistance and abrasion resistance are other important qualities to consider. Of all the injection molding materials above, TPU seems to fit this case best. Provided, of course, the market is high-end footwear.
Power Tools: Power tools are subject to high forces, vibrations, and frequent use. Sometimes, they heat up from overuse as well. This is a difficult one as there are many more things to consider, the main one being the exact application. However, Nylon, PET, ABS, and even TPU are good material choices for power tools.
Try RapidDirect Now!
All information and uploads are secure and confidential.
Conclusion
It is time to conclude this discussion, hoping that it was a fruitful read. We went over numerous injection molding materials in this article, highlighting their pros and cons for injection molding. Moreover, we also provided guidelines on injection molding material selection.
RapidDirect is an industry-leading company in top-quality injection molding services. We provide w broad range of plastic materials, boast state-of-the-art manufacturing equipment, an experienced team of professionals, and an extensive material portfolio for our clients.
At RapidDirect, we prioritize quality, cost optimization, and customer service. That's why we guarantee instant quoting, DFM analysis reports, and an impressive molding tolerance of +/- 0.005 mm, all with the facility of 24/7 engineering support.
We invite you to contact us with your rapid prototyping projects!