Metal surface finishing is essential in part production. No matter how good the finished part is, quality metal surface finishing can only make it better.
Just as there are different types of metals, there are also different types of metal finishing techniques that machinists and welding fabricators use on these metals. Not knowing the appropriate metal finishing techniques for a construction can result in material wastage, thus, raising the cost of manufacturing.
This could also lead to an increase in cycle time and possibly deny the client the opportunity of being market leaders. To avoid such undesirable results, you first need to understand how to give your product the right finish appropriately. This will have a significant impact on the cost, quality, and attractiveness of the project.
Surface Finishes Basics
Surface finishing is also referred to as surface texture, surface roughness, or surface topology. The name already explains what the concept stands for. It is the process of altering a metal's surface by adding, removing, or reshaping. Machinists use metal surface finishing for protective chemical reactions on metal surfaces and to also beautify them.
Choosing the type of metal surface finish to use on a metal is just as important as the process itself. The type of surface finishing used is dependent on the end usage of the product. For instance, medical-grade and optical instruments require the finest surface finishing. However, other less sensitive industries or application areas may not require such fine finishing.
Importance of Surface Finishes
Machinists do not use surface finishes just for their aesthetic value only. They also serve as a means of protection to the metal.
Other exciting benefits of surface finishes include:
It helps to enhance aesthetics
Aesthetics of the product is just as important as how well the product performs to many clients. With metal surface finishing, your metal surface will look just as good as ever.
Increases the metal's resistance to corrosion
Corrosion is one of the biggest destroyers of metal surfaces and parts. However, with a well-done surface finish, the metal surface is well protected and can last longer.
Ease for the manufacturing process
A proper surface finishing makes the manufacturing process easier. For instance, a well-brushed and sandpapered surface adheres to paints easier, relieving the manufacturer of stress.
Surface finishes help to improve metal conductivity
It increases the surface resistance to chemicals, protecting it from chemical attacks
It increases strength and resistance to wear
A proper surface finish helps to minimize friction effects
Metal Surface Finishes
There are different types of metal finishes you can adopt for your next project. The kind of project at hand dictates which type of finishing you should adopt. Below are some common metal surface finishes you should know:
Anodizing
Machinists use this electrolytic passivation process to increase the thickness of the natural oxide layer on the surface of metals. Machinists anodize metals to increase their resistance to wear and corrosion. It also helps primers and glues adhere easily to metal surfaces than ordinary metals do. If you anodized a metal, you would have altered the microscopic texture of the surface of the metal. Anodized metal surfaces seem to be harder than ordinary metal surfaces.
Powder Coating
This method requires the use of electricity to deposit a dry powder on the metal surface. After depositing powder on the surface electrostatically, the machinist moves the metal into an oven to obtain better adhesion of the powder on the metal surface through a chemical reaction.
This metal surface finish is widely used in the military industry, automotive industry, and tools manufacturing industry.
Pickling
This is a metal finishing process that can eliminate impurities and irregularities from a metal's surface. This method requires the use of pickle liquor, an acidic substance. The liquor serves several purposes, including as additives that help to prevent metal corrosion. Therefore, machinists use pickling in almost all metal manufacturing processes. During the metal fabricating process, if a metal passes through a hot process, it may have an oxide layer on it.
This is where pickling comes in. It helps to clean up the surface, rendering it smooth by descaling. However, as a result of the acidic process of pickling, it may also cause corrosion by itself. Therefore, pickling is usually performed before other surface treatment processes. They will help to eliminate whatever problem that arises during pickling.
Polishing
Polishing is the production of a shiny metal surface by using either physical rubbing or chemicals. It helps to produce a metal surface that has an excellent specular reflection surface. Another added advantage of finishing is that it can be used on new and used parts.
Grinding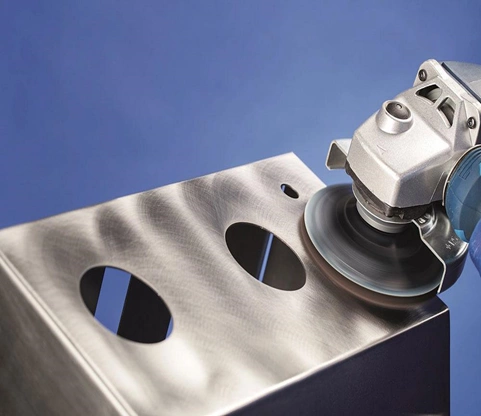 This is a typical machining process that helps to remove irregularities on a metal surface. Machinists use this process after construction and before painting or coating. Grinding helps smoothen the metal surface, and it is done using a hand-held machine called a grinding wheel or grinder.
Some common metals that often pass through the grinding process are aluminum, mild steel, cast iron, and stainless steel.
Lapping
This precision technique is usually adopted when a metal surface is required to have a high degree of surface refinement and flatness. Skilled artisans use lapping as a metal finishing technique. The process involves using a soft iron tool with a mild abrasive slurry to work the metal surface gently. Lapping doesn't require a special machine; it is usually done on small metal parts and by hand. A correctly done lapping will help to fill microscopic spots and flattens irregular surfaces.
How to Measure Surface Finish
Measuring the surface finish of a metal involves measuring the surface roughness of the metal. To do this, you need to properly examine and analyze the irregularities you find on the surface.
There are two common ways you can adopt to analyze the irregularities, and they include:
Using a surface roughness comparator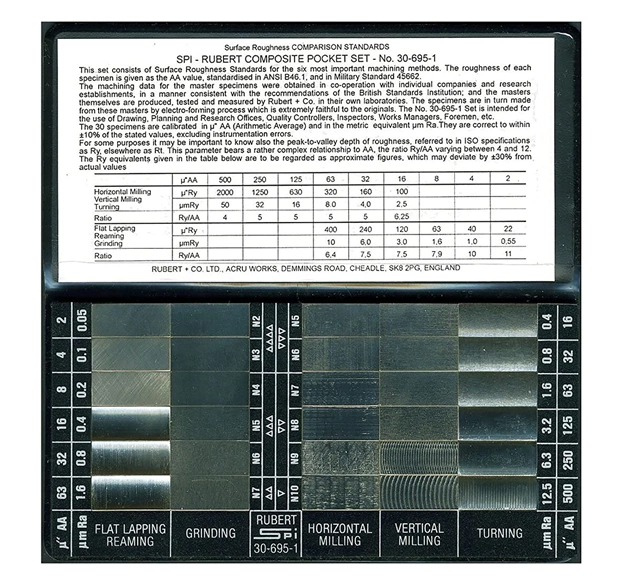 The first method requires using a surface roughness comparator. It is a manual process; thus, it has low accuracy. Roughness comparators are available for some common finishing processes, including casting, shot blast, grit blast, the surface turned, cylindrical ground, conventional machining, and electrical discharge machining.
Using a surface profile scanner
The second method, on the other hand, requires using a surface profile scanner. This provides more precise measurement as it uses laser scanning. Therefore, it is the most common method due to its high accuracy.
Using a coordinate measuring machine
Originally, machinists use coordinate measuring machines to measure the height, width, and depth of parts. However, new sensors on these machines allow them to automatically measure surface finishes. This way, you can switch between part scanning and surface finish measurement easily.
Surface Finish Roughness Chart
You can compare surface finishes by looking at a surface finish roughness chart. There are various parameters for measuring surface roughness, but the most common is the Ra. The Ra Indicate the arithmetical mean deviation on the surface.
The smaller the Ra, the smoother the surface, and the higher the Ra, the rougher the surface. Surface roughness is usually indicated in micrometers which is a standardized method for ISO grades. Here is a handy surface roughness chart for your reference.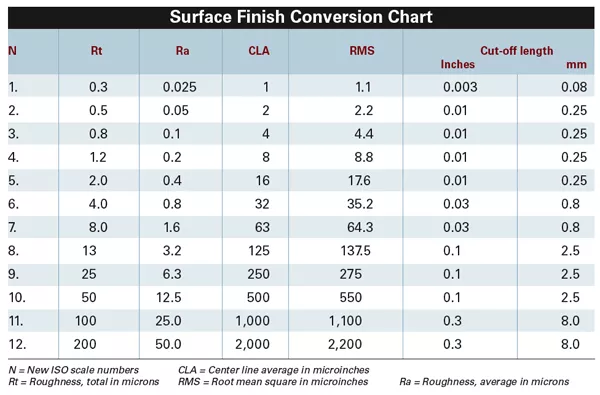 How to Choose metal surface finishes
Choosing suitable metal surface finishes is easy; all you have to do is consider specific factors. These factors include:
Speed
Each metal surface finishes requires different time frames. Some are fast, while some are slow. Therefore, if you have a project to deliver, consider the time needed to deliver the project. Also, consider the processing time of all the metal finishing options available to you. In other words, if you have to complete a project as quickly as possible, consider adopting a surface finishing with the fastest processing time.
Material
All metal surface finishing is not suitable for all metals. What you, therefore, have to do is first to consider the material your piece is made of and choose a proper surface finishing for such material. Some materials are soft; using a strong abrasive method on such materials may result in damages. On the other hand, some materials are strong, and going too soft on them will not provide the suitable finishing you crave.
Budget
You may find a perfect finishing for your project, but do you have the required facilities? Can you afford to get new facilities to affect the finishing? You don't want to go outside your budget. Therefore, you should opt for cost-effective finishing. Some finished materials sell at low prices; applying an expensive finish on the ones you are fabricating may raise the cost and likely scare off your potential customers. Thus, it is safer to go for cost-effective finishes.
Conclusion
Proper surface finishing is essential in metal parts production. Not only is it good for the end-user, but it also puts the manufacturer at an advantaged position. However, not knowing the proper way it should be done may put both manufacturers and end-users in a disadvantaged position. To avoid such, take the time to study your needs, look for the most suitable finishing for the job, learn how it should be done, and set out to make it happen.
RapidDirect Rapid Prototyping Services
Have you been looking for the best company that can offer you an excellent machining services including surface finishing? Now you can relax because your search stops here.
At RapidDirect, we offer quality surface finishing at reasonable prices. With us, you can save 30% of your budget. We know that you want quality finishing for your parts production without breaking a bank to get it; that is why our quality service is affordable.
We have 200 sets of 3, 4, and 5-axis CNC machines and a wide range of auxiliaries in China. Therefore, you can relax because we are capable of handling your project. With us it doesn't matter what tolerance, material, or surface finish is needed for your metal parts. We always deliver. We also know how much you value time; thus, we deliver within the promised lead time.
Interestingly, you don't have to come all the way down to our firm to get your job done. Just contact us through email, and we'll attend to your needs. You can also upload your CAD file to get a quotation.
FAQs
Q: How do you paint metal without leaving brush marks?
A: Remove any loose paint and sand the surface smoothly. Apply a suitable oil-based primer and allow it to dry. Sand the surface until it is completely smooth. Ensure that your paint is well mixed, and gently work it through the metal with your brush. You can also use a spraying machine.
Q: What are the factors that may affect my surface finish?
A: Some of the factors that may affect your surface finish quality include cutting edge geometry accuracy, tool wear, built-up edge, and machine tool accuracy.
Q: What are the primary reasons for surface irregularities?
A: Rupture of workpiece materials during metal cutting, deformation of the workpiece under action, and irregularities of the machine tools.